When you relocate, knowing about the Ontario healthcare system is very important, as it will most likely be different from your home country. The government-run Ontario Health Insurance Plan, or OHIP, covers most basic and emergency medical services in, and outside of Ontario, provided they are needed for medical reasons. OHIP also permits healthcare cardholders to apply for reimbursement for certain medical costs if they have paid upfront for services. Medical services covered by the plan include: visits to doctors and hospital stays; abortions; eligible dental surgery and optometry; podiatry; ambulance services; and travel for health services if you live in northern Ontario. You will need to take your OHIP card with you whenever you go to one of these services.
Although there is this public healthcare system in place, many residents choose to take out private health insurance as well, to get more extensive coverage. The Canadian Life and Health Insurance Association Inc. is a good way to find the right private insurance policy for you, as they offer an extensive list of private insurers – this kind of insurance can also help to cover non-medical procedures and medications that the public healthcare will not pay for.
Ontario Health Insurance Plan (OHIP)
Under the Health Insurance Act, residents of Ontario are eligible to receive healthcare from the Ontario Health Insurance Plan, which is provincially funded. To be eligible:
you must be a permanent resident, Canadian citizen, or any other status as set out in Ontario's Health Insurance Act
your primary residence must be in Ontario
you must be physically in Ontario for 153 days out of every 12 months
you must be in Ontario for 153 days out of the first 183 days after you establish the province as your place of residence
Be aware that your OHIP will not take effect for about 3 months after you establish residency, and because of this, getting private insurance is recommended in case of illness or accidents during the waiting period.
Healthcare Cards
If you have just moved to the province, you need to obtain an OHIP healthcare card, and to do this you will need to visit a ServiceOntario Centre in person. This is where you sign up for your public healthcare, and can also renew and replace health cards. You will need to bring the following with you to apply:
Completed Registration for Ontario Health Insurance Coverage form
Three separate, original identification documents: proof of Canadian citizenship or OHIP-eligible immigration status (e.g. Canadian birth certificate or Permanent Resident Card); proof of residency in Ontario (e.g. Ontario Driver's Licence); and proof of identity (e.g. passport)
Keep in mind that if your child is over 15½ they will need to have their own picture taken, and also sign their own card – each family member will have their own card as it includes individual information such as birth date, insurance number and photograph. Always keep your health card on you, and make sure you replace the card if there is any information incorrectly recorded, your card is lost or stolen, or if you get married and your name changes.
When shown to medical staff, the OHIP card assures coverage for all medically necessary services in Ontario, and a limited number of services in other provinces and territories across Canada. Your OHIP also covers a limited number of costs for emergency health services outside of Canada through the Out-of-Country Traveller's Program, under certain conditions.
For more information on the Ontario healthcare, please visit the government website.
Finding a Family Doctor
Once you have your OHIP card, we highly recommend you find a family doctor, in order to avoid those lengthy waits at the busy walk-in clinics. To find out more about registering for a family doctor, visit the Ontario Health website, where you can also register for Health Care Connect to see who is accepting new patients in your community.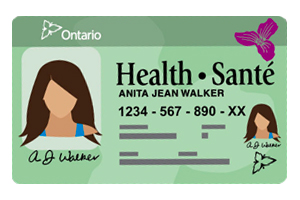 Learn More
For more valuable information, check out these helpful articles and links:
Photo credits: OHIP