In Québec, the RAMQ Health Insurance Card (Régie de l'assurance maladie Québec), gives all cardholders access to a range of healthcare services covered under the Québec Healthcare Insurance Plan. The services include medical, dental, optometric and pharmaceutical services, and by presenting your RAMQ card you will not be billed for the services covered. You can see a full list of medical services included here.
If you forget your card or it has expired, you will have to pay upfront for the services you have received. However, you can apply for a reimbursement for services covered under the healthcare insurance plan up to a year after you received the service, as long as you have asked your doctor for the form entitled "Demande de remboursement (carte expirée ou non présentée)" or the form entitled "Demande de remboursement d'une personne assurée" from other health professionals. These forms must be filled out correctly by both you and your health professional, and mailed to the Régie along with invoices detailing how much you've paid. If you think you have been incorrectly billed for services that should be covered under the healthcare insurance plan, you are also able to apply for reimbursement up to five years after you paid for the service.
Registration and Eligibility for the RAMQ Health Insurance Card
You must register for a RAMQ Health Insurance Card if you are eligible. When you first arrive in Québec, it is important to call the Régie or visit one of their offices in order to obtain an application form and submit your application as soon as possible.
To be eligible you must meet the following criteria:
Persons born in, or taking up residence in Québec
Persons from another province taking up residence in Québec
Persons from another country taking up resident in Québec
Persons staying in Québec temporarily
Must be present in Canada for 183 days per calendar year (Jan 1 to Dec 31) to remain eligible
People who are ineligible:
Tourists, or children born to parents who are tourists in Québec
Persons from another Canadian province staying in Québec temporarily
a foreign student from a country other than those with which 

Québec

 has concluded a social security agreement
a refugee claimant
Please note that if you are a temporary resident in Québec and are away from Québec for more than 21 consecutive days, you will lose you healthcare coverage for the remainder of your stay, and will have to pay for any healthcare services.
How to register? There are 3 steps to get the health insurance card.
Step 1: Fill out the registration form from the "Régie de l'assurance maladie du Quebec" (RAMQ). There is no online registration, you must call the RAMQ to make an appointment and go to the office to get a registration form.
Step 2: Attach proof of identity documents to your registration form. These don't have to be originals, but they must be certified true copies.
 For a permanent resident: the permanent resident card, any other document issued by Canadian immigration authorities attesting to your permanent resident status in Canada, Québec selection certificate (QSC).
 For temporary worker: the original of an employment authorization issued by the Canadian immigration authorities, with the employer's name and place of employment.
 Spouse: the original document issued by Canadian immigration authorities allowing your spouse to be in Canada, and a photocopy of the marriage/civil union certificate.
Step 3: Send the application form and supporting documents to the Régie, along with your photograph and your signature.
After submitting the aforementioned documents, the Régie will assess your application and send you a letter to let you know when your coverage under the Healthcare Insurance Plan begins (if you are eligible). It will send you a health insurance card within two weeks of your coverage starting. Please note that in the period between arriving in Québec and your Healthcare Insurance Plan starting, you cannot apply for any reimbursement for services you may require during this time; it is important that you organize your own private insurance to cover you for healthcare services until you receive your RAMQ card.
Learn more
You might also want to check out our helpful articles on the Quebec Healthcare System and additional Health Services in Quebec.
If you're moving (or have already moved) to Quebec, be sure to check out our Online Relocation Guide for Montreal, featuring 20 chapters of essential facts, links and advice for getting acquainted with the local ways, customs and procedures, covering healthcare, housing, schooling, transportation and much more. We promise to save you time, save you money, and help you avoid the most common mistakes.
New RAMQ card (as of January 2018), front and back: 
Key:
Bar code
Health Insurance Number
Your identity, and number of cards issues to you since 1984
Date of birth and sex
Year and month of expiry
Photo and signature
Consent to organ donation
Old RAMQ card (still valid), front and back: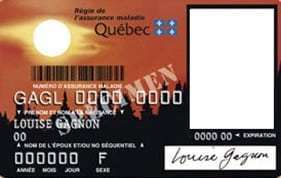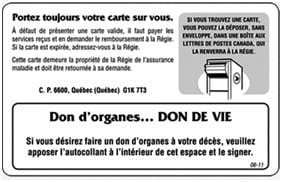 Photo Credit: RAMQ