When you move to Montréal, Canada, you're not likely to suffer from under-stimulation. Perhaps the most culturally diverse city in North America, Montréal is a melting pot of French Europeans, Anglophones and international immigrants, ex-pats and refugees, with a metro population of over 4 million. And if it's entertainment you're looking for, just head downtown to the Quartier des spectacles for a veritable sensory overload.
Covering roughly one square kilometer, the Quartier des spectacles contains the highest concentration and the greatest variety of entertainment and cultural venues on the continent. Whether you want opera, acrobatics, comedy, jazz or laser lighting, from the classical to the avant-garde, here you'll find acres and acres of stages and galleries.
Statistically speaking, the numbers alone are breathtaking: 30+ performance halls, 40+ exhibition spaces, 100+ shows a month, and enough seating for 28,000 spectators. But the liveliness and joie de vivre of the Quartier des spectacles is something beyond words. No matter when go, you are certain to see something worth watching.
The directory of venues and calendar of events are simply overwhelming. So it's impossible to come up with something like a comprehensive listing. You could spend several days and nights there, just to get a sense of the spectacle. But before you do, here are a few of what we consider to be the highlights of the area.
These are a few of our favorite things about the Quartier des Spectacles
Maybe it's gotten a little over-crowded, over-commercialized and over-done in recent years, but the Montreal International Jazz Festival remains a bastion of musical culture in Canada. The largest jazz festival in the world, taking place around the last week of June and the first week of July, attracts around 3,000 artists and 2 million visitors annually, more than 10 percent of them tourists.
In 2019, the festival celebrated its 40th year with one of the greatest line-ups of all time. The seemingly endless series of concerts and performances includes way more than what you would ordinarily think of as jazz. Among the hundreds of participating acts were such unexpected stand outs as Peter Frampton and Rodrigo y Gabriela. 
No matter what time of year you come to Montréal, if it's art and culture you're after, you can't miss the MAC. Since 1992, the museum has occupied a prime position at the Place des Arts, undergoing a major redesign in 2018. Covering more than 15,000 square meters, the museum is Canada's only cultural complex devoted to both contemporary performing and visual arts.
Rather than the works of old masters that you can find in dusty old history books, the MACM focuses on the modern and the leading edge of Canada's art movement. Exhibitions celebrate the spirit of innovation and experimentation, indigenous and minority groups, and the 21st century.
Leonard Cohen: A Crack in Everything premiered at the MAC in 2017 and has since embarked on an international tour, with a long stop over at the Jewish Museum in New York City. Some of the best art of the 21st century, according to The Guardian, also appeared at the MAC this year, including Ragnar Kjartansson's The Visitors and The Clock by Chris Marcley.
3. Gay Village
Sure, it's a crass stereotype, but who can deny it? When you're looking for creativity, originality and flamboyance, you really have to hand it to the homosexuals. From the provocative art galleries to the invigorating bars and nightclubs, the Gay Village, which rubs up against the northeast shoulder of the Quartier, promises a fresh perspective on things.
But all joking aside, Canada has one of the most gay-friendly cultures in the world. No matter what neighbourhood you're in, gays, lesbians and transgenders are treated with total openness and utmost respect. In the Village you'll just find a lot more rainbow flags swinging from the balconies and lampposts. Increasing tolerance and acceptance of gay culture in recent decades has led a to beautification and gentrification of this area, which is now teeming with gay businesses, festivals and outdoor patio dining.
In the mood for a unique fine dining experience around the Quartier? Bouillon Bilk describes itself as having "modern eclectic cuisine with a French influence served in a bright, minimalist-chic space." Truly a class act, Bouillon Bilk takes its food very seriously, and the restaurant is consistently ranked one of the best in Montréal and in Canada. Their creative cuisine will appeal to vegetarians and carnivores alike, and anyone not lacking an appetite for adventure. The restaurant is open for lunch and dinner, with an incomparable wine list as well as a titillating variety of non-alcoholic libations.
1595, Boul. Saint-Laurent, Montréal, (514) 845-1595
5. The Belgo Building
With more than 100 years of history, the Belgo Building, on the corner of St. Catherine Street in the middle of the Quartier, houses some of the most numerous and easily-overlooked art galleries in the district. Unassuming on the outside, the former home of Scroggie's department store and an amalgamation of garment industry sweatshops, began transforming into something of an art haven in 1980s.
Today the building has nearly 30 galleries plus a smattering of studios for individual artists. From surrealistic paintings and provocative pop art, to scientific sketches and multi-media sculptures, every genre is represented here and rearranged with striking results. Expect your artistic tastes to be tantalized and tormented by the Belgo's exquisite variety.
6. Montréal en Lumière 
Winter in Montréal may strike fear in the hearts of those ill-equipped with arctic snow gear, but if there's anything to make it worth facing the frost, it's the annual festival of lights which has been running since February 2000. The free outdoor light show delivers a dazzling feast for the eyes, also accompanied by a genuine feast of local, gastronomic delights, and host of winter activities. Pack your parka and get ready for the toboggan run!
The two-week festival culminates with the unforgettable Nuit Blanche, or White Night, with live music and performances taking place across the city, in downtown, Old Montréal and the Quartier des spectacles. The free event runs all night with hundreds of activities and hundreds of thousands of participants.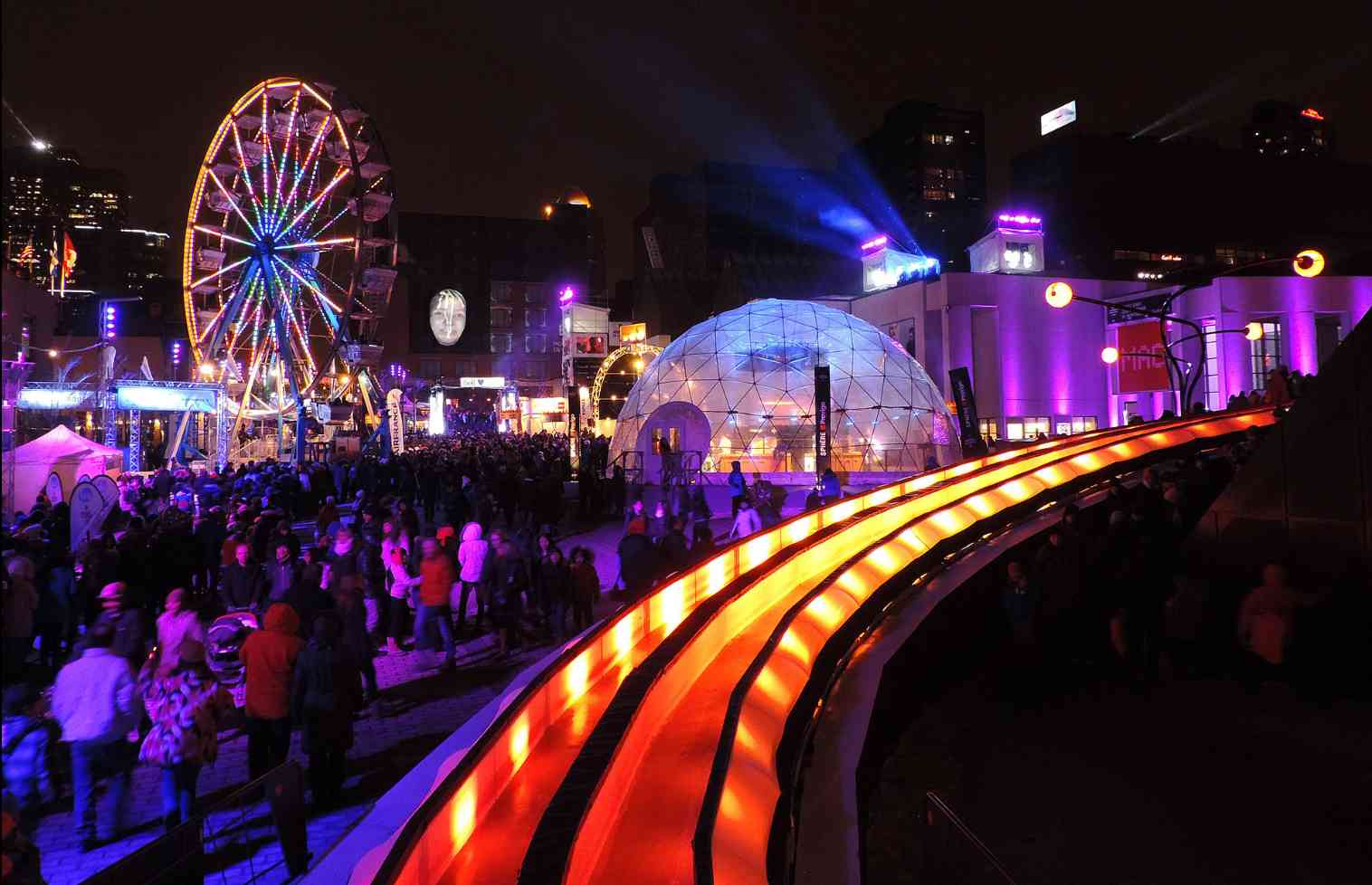 7. The Circus
For the best of what Montréal has to offer, it's hard to top the Cirque du Soleil. Launched by two Montréal street performers in 1984, the "Circus of the Sun" quickly shot to international acclaim. By the 1990s, the circus had become a bona fide phenomenon, performing in more than 250 cities on six continents. Their extraordinary blend of arts and acrobatics are like nothing else in the world of entertainment. Productions incorporate themes as diverse as the Michael Jackson story, the Barcelona Football Club, and East Indian mythology.
While the troupe continues to travel and perform around the globe, the circus maintains its headquarters in Montréal and appears regularly in the city, with at least one run of shows a year. The high-flying act enjoyed 10 days at the Quartier des spectacles in July 2019, returning to Montréal for another string of shows in December.
With so many venues and events to keep track of, you must be wondering, "Is there an app for that?" Montréal has a well-deserved reputation as the artificial intelligence capital of North America, so not surprisingly, the answer is yes. The free app, available in French and English, provides an overview of about 125 topics and locations, with events calendars and personal reviews, all at your finger tips.
Not only that, but guided tours, available only through the app, can direct you to some of the best known highlights, as well as the best kept secrets of the district. Unusual tours include Scandal! a two-hour tour of the Montréal crime scene from the 1940s to the 60s, in collaboration with the Centre d'histoire de Montréal. Then there's Urban Art in Montreal, an exploration of graffiti and mural art in and around the Quartier des spectacles.
9. Lola Rosa
Canada may not be famous for its vegetarian cuisine, but you can be sure to find more than just Canadian bacon on the menu in this cosmopolitan neighbourhood. And when it comes to vegetarian restaurants, you've got plenty to choose from. But your best bet in the Quartier des spectacles might be Lola Rosa.
Lola Rosa has 3 locations in Montréal, including one at the Place des Arts. The great location and warm ambiance is matched by friendly service and a wonderfully diverse menu. More than just a selection of veggie burgers, you'll also find spinach lasagna, yellow curry, and Tunisian stew. And if you insist on Canadian cuisine, you can even order vegan poutine. Like most of their menu, it's also gluten-free.
276 Saint-Catherine St W, Montréal, (514) 543-0613
Eight socially and environmentally minded organizations have united to create the Centre for Sustainable Development, which offers space for reflection, innovation, education and the meeting of minds on sustainable development. This demonstration green building, the first to receive LEED Platinum Certification in Quebec, aims to inspire everyone from property developers to the general public and create a synergy between its founding members: Amnistie internationale, The Petit Réseau daycare centre, the Conseil régional de l'environnement de Montréal, ENvironnement JEUnesse, Équiterre, Option consommateurs, the Regroupement national des conseils régionaux de l'environnement du Québec and Vivre en Ville.
The Centre for Sustainable Development is the first building in Quebec to receive the LEED® Canada New Construction Platinum certification. It serves as a model and reference for anyone interested in environmental protection with respect to construction. Guided tours allow members of the public to learn about the building's characteristics.
11. 9,000 Jobs
In times of financial uncertainty, even the gloomiest stay-at-home stick-in-the-mud can support the idea of job security. The multitudinous venues and organizations around the Quartier des spectacles provide nearly 9,000 full-time jobs in Montréal. Of course, the full schedule of events are a non-stop draw, attracting high-end tourists from around the world who will end up spending money all over the city on meals and accommodations. So even if you'd rather stay home, you can rest well knowing that your local economy is thriving.
Further reading
To learn more about Canadian culture and what's going on in the city of Montréal, check out some of these other popular links and articles.
PHOTO CREDITS: Société de la Place des Arts de Montréal and Nuit Blanche (Wikipedia)