On June 1, 2020, the minimum wage in Montreal, in the French Canadian Province of Quebec, climbed from $12.50 to $13.10 an hour. This came as good news to those at the lower end of the income ladder. But it begs the question, "Can anyone really live on minimum wage in Montreal?"
On minimum wage, no one can expect to enjoy a lot of frivolous expenditures. That's basically the definition of minimum wage, regardless of where you live. The idea is that nobody's income should fall below the level of basic subsistence, but that some young and unskilled workers might only just barely eek out a living. And Montreal is one of the few cities in Canada where a person actually can survive on minimum wage.
Living in Montreal on $13.50 an hour
By Canadian standards, Montreal has a relatively low cost of living. Compared to cities like Toronto and Vancouver, the French Canadian metropolis is actually quite affordable. This is especially evident when you look at metrics like housing and groceries.
Check out our articles on Cost of Living in Montreal vs. Toronto and Cost of Living in Montreal vs. Paris.
In the end, you'll have an easier time living on a full-time minimum wage income in Montreal than you would in most other parts of Canada. Even so, if you want to live in an upscale neighbourhood like Westmount, you're going to need more than minimum wage to make ends meet. But there are plenty of neighbourhoods, often in the suburbs, where you can get a lot more for your looney.
Most affordable neighbourhoods in Montreal
Montreal is one of the most diverse and cosmopolitan cities in North America, with a lively mix of Anglophones, Francophones, and immigrants. You'll find the neighborhoods of Montreal are also quite diverse, and there's a lot of affordable housing throughout the city. The most expensive neighbourhoods are generally around Montreal West.
Students and new immigrants, often on minimum wage, usually manage to find rentals near the city center, while young families generally prefer the quiet of the more affordable suburbs. Prices drop sharply when you cross one of the bridges and get off of the island. There's also some difference between the French speaking neighbourhoods and the Anglophone neighbourhoods. English speaking districts tend to be more expensive, although it's something of a generalization.
If you're on the island, you will have a hard time finding a studio apartment for less than $5-600. If you can get some roommates together, you can save money that way. Three bedroom apartments are available for around $1000 a month. Here are a few of the more affordable parts of town.
Pointe-Calumet: a half hour northwest of Montreal proper, this suburb has some of the lowest housing prices in the area
Vaudreuil-Dorion: a family friendly suburb immediately west of the island, with some very reasonable real estate
Blainville: this off-island suburb, just 20 miles northwest of downtown, is growing very popular but remains affordable
Verdun: an affordable residential area in the southeast part of the island
Minimum wage in other parts of Canada
As we mentioned, the cost of living in Montreal is generally lower than in the other big cities of Canada. But the minimum wage in the province is actually pretty competitive. This means that minimum wage workers end up doing ok, although not great, in Montreal and Quebec.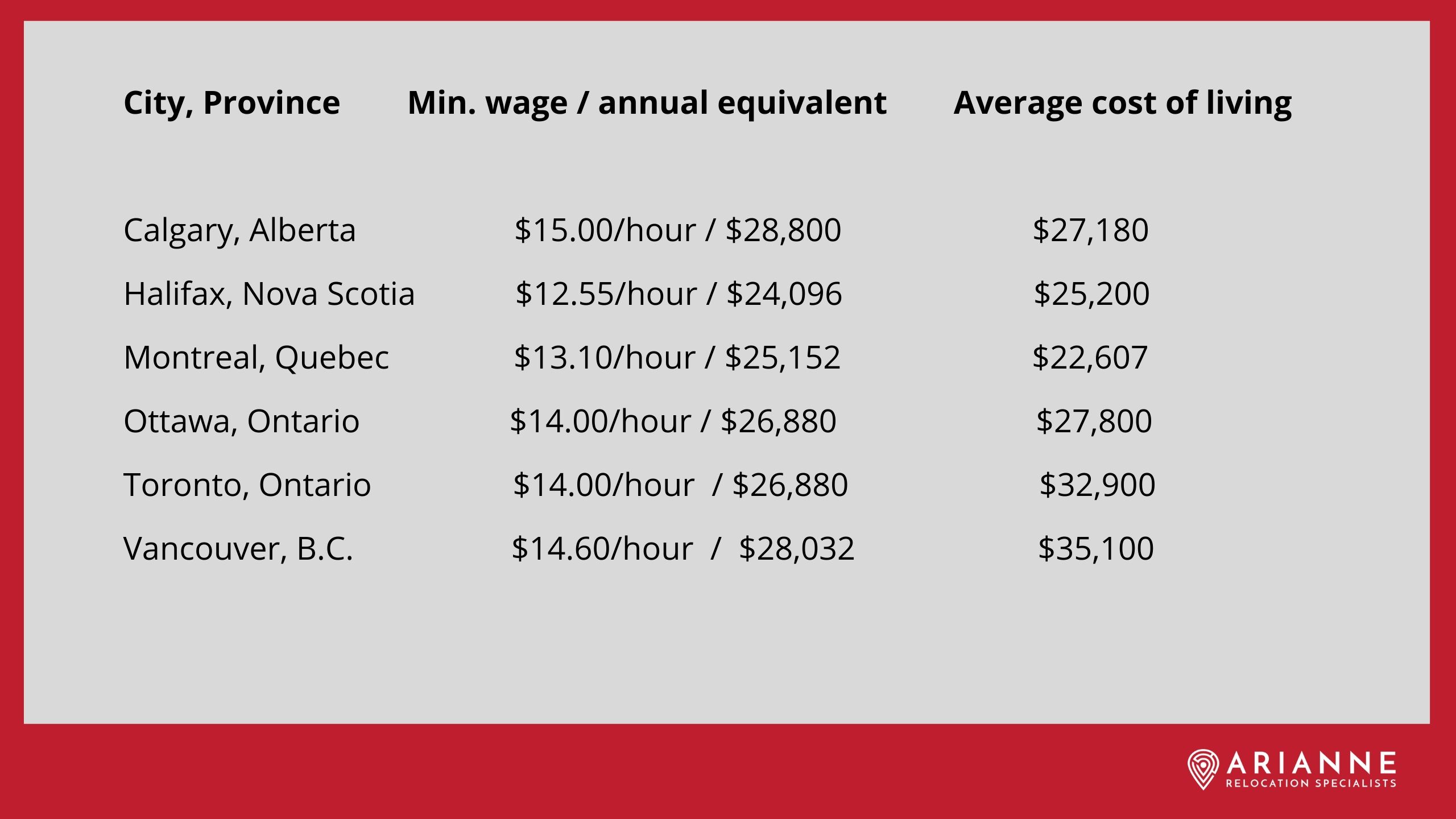 The provinces of British Columbia and Ontario, home to Canada's most expensive cities, Vancouver and Toronto respectively, have among the highest minimum wages. In B.C. everyone makes at least $14.60 an hour, and in Ontario it's $14.00 an hour. As of June 1, 2020, only Alberta has a higher minimum wage, at $15 an hour. So low wage workers in Calgary and Edmonton, not especially expensive cities, can also make ends meet. Home to the vast oil and natural gas fields, Alberta can apparently afford to pay its service workers a little more than anywhere else.
The rural prairie provinces and some of the outer maritime provinces, where the cost of living is lowest, have the lowest minimum wages in the country. Low skilled workers in Saskatchewan, Manitoba, New Brunswick and Newfoundland can earn less than $12 an hour.
Onward and upward in Montreal
Since 1996, ARIANNE Relocation has been helping families and professionals relocate to Canada from all over the world. To make their international transitions run more smoothly, we prepare them with tools and information about local housing, schools, services and transportation.
Check out some of these links to learn more about Montreal and about the services we provide.
PHOTO CREDIT: Canadian currency (Unsplash)