Canada enjoys one of the most prosperous and stable economies in the world. And strict financial regulations do a good job of protecting Canadians from the kind of housing collapse and crisis that struck the U.S. back in 2008. But the Canadian real estate market can fluctuate just like anywhere else in the world. And volatility is especially evident in markets like Vancouver and Toronto.
Canadian Real Estate Prices at a Glance
Canadian housing prices took a bit of a hit in 2018. But considering the tremendous gains of the previous several years, it was a fairly mild and unsurprising correction. Indications from the first half of 2019 suggest that the national housing market has not fully recovered, but it is still strong throughout most of the country.
Nationally speaking, the average Canadian home is now selling for about $495,000. That's up about one-third of a percent from 12 months ago. It's far from a speculator's dream, but it is the kind of stability that allows homeowners and prospective buyers to sleep easy at night. And after the years of boom and the uncertainty of 2018, most pundits are welcoming these modestly positive numbers.
Trend Setters and Outliers
Vancouver and Toronto have long been the two most interesting markets to watch. And this year they have two very different stories to tell. Vancouver still seems to be in the midst of an ernest but necessary correction. The Toronto market, meanwhile, survived a sharp downturn in 2017 and appears to have leveled off.  Prices in the GTA have begun to rise again, but only incrementally.
If you take British Columbia out of the equation, the national market is actually looking very strong, still up more than 6 percent in the most populous provinces, Quebec and Ontario. This is healthy, stable growth, not the unsustainable, double-digit escalation we were seeing a few years ago. And as for B.C., we can only say that they had it coming.
The jaw-dropping price increases in Vancouver and Toronto actually prompted the Canadian government to implement a variety of new policies last year. In order to cool off these overheated markets, federal interest rates increased and a tax on foreign buyers went into effect in Ontario and B.C. Stricter lending rules and a mortgage stress test also made it more difficult for potential home buyers to borrow money. It's difficult to say precisely what effect each of these policies has had, but for now interest rates are staying put. And although sales volume is down, analysts are not detecting any cause for alarm.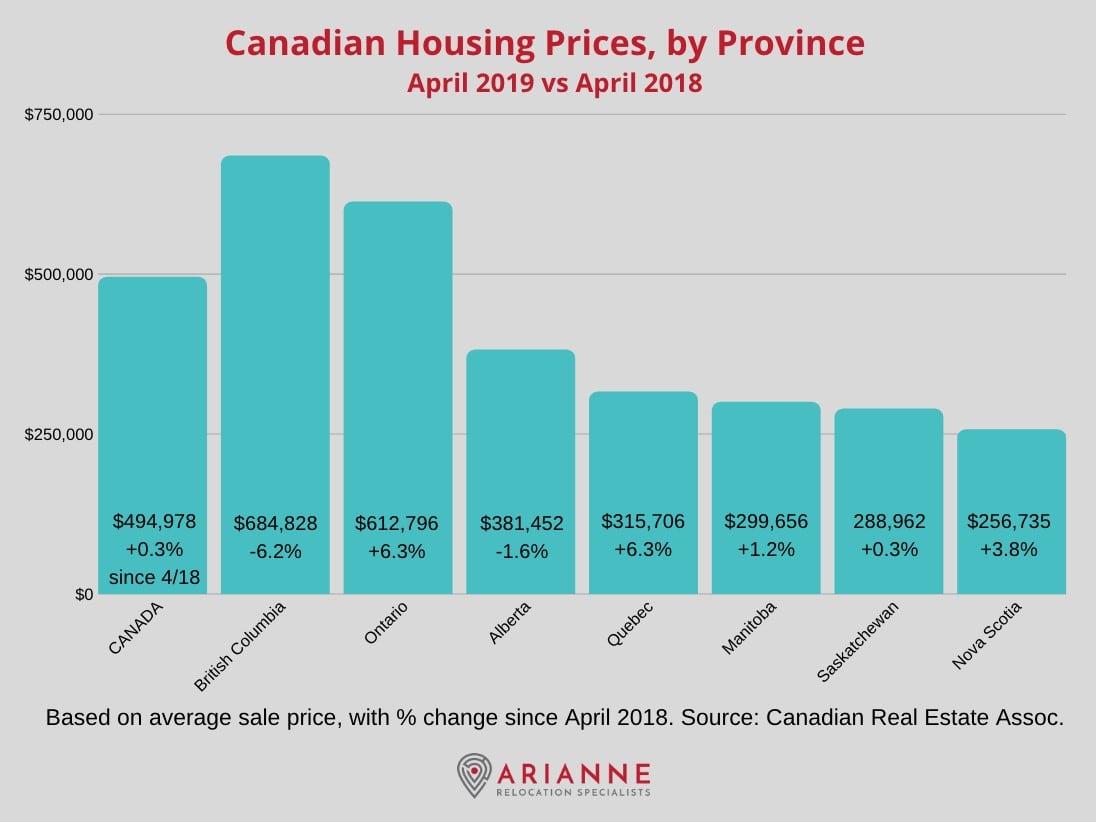 Real Estate Prices in Vancouver, British Columbia
After a few years of astronomical appreciation, between 2015-17, Vancouver became one of the least affordable housing markets in the world. For a while there, sellers were asking whatever price they wanted for any piece of property, and buyers were climbing over one another to pay the most outlandish sums. A beautiful coastal city with the best weather in all the country, Vancouver has attracted residents and investors from all over the globe.
To protect both lenders and borrows, the provincial government is making it more difficult to qualify for a mortgage. Meanwhile, they're trying to keep runaway prices in check with higher taxes on foreign investors, second home and properties priced above $3 million. Again, it's hard to tell just how much impact these policies have had. Eventually buyers just have to open their eyes and see that the cost of Vancouver real estate is outrageously high.
At the market's peak in May 2017, the average price of a detached home (not including condos) reached a record $1.83 million. Last month (April), the benchmark price of a detached home was $1.425 million, which signals a drop of 11.1 percent from April 2018. And according to the Vancouver Real Estate Board, the benchmark condo has fallen to $656,900, down 6.9 percent since April 2018.
Finally a buyer's market in Vancouver?
This brings the overall average price to $1,008,400, an 8.5 percent drop from last April, when the average price of a home in Greater Vancouver was $1.1 million. But keep in mind, this average includes the entire metropolitan area. Property farther from the city center will be considerably more affordable, while the average home in upscale West Vancouver, for example, is still more than $3 million.
So if you've ever dreamed of owning a house in beautiful Vancouver, it's time to start paying attention. The market isn't exactly crashing, but prices are falling fast, and we haven't hit bottom yet. It's safe to say that even better deals are yet to come.
Conversely, if you're thinking of selling property in Vancouver, maybe think again. Homes are moving slowly, inventory is backing up, and most sellers are having to settle for something far below their original asking prices, especially for the high-end, luxury properties. According to the Vancouver Real Estate Board, sales volume is down about 30 percent from what it was last spring.
Otherwise, if you don't need to be in the city, you can still find good deals and breathtaking scenery in other parts of British Columbia. Check out places like Squamish, just an hour north of the city, or the remote trading post of Fort St. John, at mile 47 of the Alaska Highway.
Real Estate Prices in Toronto, Ontario
For the last several years, soaring real estate prices in Toronto have looked pretty similar to Vancouver's, just not quite so high. The impending affordability crisis has been on everyone's lips, and the government has taken measures to cool the market just as they did in British Columbia. As with Vancouver, these fiscal policies have had the greatest impact on Toronto's luxury housing market. But for the most part, real estate in Toronto is still looking strong.
In April, the average home in Greater Toronto was selling for $789,100. That's a 3.2 percent increase from $764,800 in April 2018. The average detached home value is currently about $1.4 million, up one percent from last year. And condos are up 8 percent, at $646,000, according to Zolo.
Most policy makers seem to agree that this is evidence of successful financial engineering. But from the market's peak of $920,00 in April 2017, prices took a sharp drop, and many saw reason to panic. The past 12 months suggest that the market may have already hit bottom, with condo prices already rising and detached home values remaining flat. But it may take another several months for dust to settle.
What to expect
We all wish we had a crystal ball to see where Toronto housing prices were headed next, especially in times like this. But of course, the future is impossible to predict. With prices limping upwards, you might think it's time to buy, before the next big surge. On the other hand, many investors are still nervous as they watch the Vancouver market implode. Meanwhile, another interest rate hike could lie ahead, and many first-time homebuyers are feeling the constraints of lending limits and mortgage stress tests.
Ultimately, in both Vancouver and Toronto, demand is high and supply is limited. So it's hard to imagine prices falling too far, except in the luxury home sector. Furthermore, Canada's economy continues to show strength, and nowhere is it more robust than Toronto.
So if you're looking for a bargain, your best bet is probably not to sit and wait, but to start looking in the suburbs. Areas like Stroud and Bowmanville are growing quickly, but still have some pretty reasonable deals compared to Toronto proper. Although the deals may not last long. Regionally, the province of Ontario has seen property values increase by 6.3 percent between April 2018 and April 2019. That's as high as anywhere in Canada.
Check out our articles on Toronto Real Estate Trends in 2019 and Toronto Real Estate Tips for Foreign Buyers.
Real Estate Prices in Montreal, Quebec
Perhaps Canada's most interesting real estate market is now in Montreal. The largest city of French Canada never experienced the kind of explosion in housing prices that took place in Vancouver and Toronto. Instead, homes in Montreal have remained remarkably affordable compared to elsewhere in Canada. Now, as those other overheated markets have finally cooled off, Montreal real estate is on the rise.
In April 2019, the average price of a home in Greater Montreal was $360,900. A year earlier, the average price was $339,300, marking a year over year increase of 6.4 percent. That's the second highest rate of appreciation in any major Canadian city, after Ottawa. These increases aren't just among condos and apartments either, but across the board, effecting detached homes and bungalows at a similar rate. And at the provincial level, Quebec home prices rose by 6.3 percent over that same period, well above the national average of just 0.3 percent.
Montreal Forecast
The Montreal economy is strong and diversified, keeping prices stable. Its cosmopolitan, European flavor also makes Montreal unique in North America and a very desirable place to live. Various factors, including the weather and the need to speak French, have long held the real estate market in check. But now Montreal prices are on the move.
In addition to these strong prices, the Montreal market is also enjoying very high turnover this year. This is good news for buyers and sellers alike. It's also a sign that with high demand, the upswing will probably continue through the year and well into 2020. Still, at less than 7 percent, there's certainly no cause to worry about a bubble. In fact, prices could go on rising like this for quite some time before coming anywhere near the cost of housing in Toronto. These are just the kind of safe and sustainable numbers that investors like to see.
Be sure to take a look at our article on Montreal Real Estate Trends in 2019.
Real Estate Prices in Calgary and Edmonton, Alberta
In what appears to be part of a general downward trend in Western Canada, real estate prices have also slipped in the Albertan cities of Calgary and Edmonton. In Calgary, the average home value fell 4.6 percent, from $430,900 in April 2018 to $411,100 a year later. The decline seems to have affected detached homes and condos equally. Further north in Edmonton, prices dropped an even 4 percent, to the April 2019 average of $320,900, according to the Canadian Real Estate Association.
Most experts attribute the price drop to two main factors. First of all, the mortgage stress test has made it more difficult for homebuyers to qualify for a loan and purchase a house in the price range they want. Also, in Calgary in particular, an over supply of houses is dragging prices down.
Many homeowners purchased a few years ago when prices were at their peak and interest rates were low. Now, with prices down and interest rates up, they are having trouble refinancing and are wanting to sell. As a result, there are too many houses for sale and not enough interested buyers. The conditions in Edmonton are fairly similar, but just on a slightly smaller scale.
Even so, there's nothing catastrophic about prices sliding by less than 5 percent. And whether or not this indicates a good time to buy is hard to say. But it is beginning to look a lot like a buyer's market.
Alberta underwent something of an economic recession in 2015-16, following cuts in oil production. The real estate market suffered as a consequence, but economists are seeing a mild recovery and have high expectations for 2020. Overcoming its "natural resource curse," the province of Alberta has been trying to diversify its economy. But the energy industry will probably lead the economic recovery as oil production restrictions are lifted next year.
Real Estate Prices in Ottawa, Ontario
Back to Ontario, the Canadian capital of Ottawa is seeing the greatest price increases in the country. With average home values up 7.8 percent to $411,600 as of April 2019, houses in Ottawa are still a bargain compared to neighbouring Toronto. High tech has been the driving force in Ottawa's recent growth curve. But the capital city's public sector is especially resilient in times of economic uncertainty. As a result, Ottawa is home to the perfect storm of strength and stability.
Also, with housing inventory in short supply and homes spending fewer days on the market, it's a perfect recipe for a seller's market. Consequently, buyers are bidding on a limited selection of properties and often offering more than the asking price. As employment and immigration levels remain high, conditions are not likely to change anytime soon. For a city that's small and clean, but also well-educated and dynamic, Ottawa might be one of North America's best kept secrets.
Conclusions
Mild mannered and even keeled on the surface, Canada's real estate market is really in a state of unpredictable flux right now. All eyes have been on Toronto and Vancouver, where prices were spiraling upward in a frenzy of over-speculation. But Vancouver is finally paying its comeuppance, while the jury is still out on Toronto. Of course, we'll never know if we've hit bottom until it's much too late.
While the lure of Canada's vibrant first city remains irresistible, more and more Torontonians and would-be Torontonians are seeking affordability further outside the booming metropolis. The surrounding cities and suburbs are growing quickly, and real estate prices are climbing steadily throughout the province.
In the meantime, Montreal and Ottawa are emerging from the shadows. As property in Toronto drifts increasingly out-of-reach, more homebuyers are discovering these two cities to be both cosmopolitan and affordable. If you speak French, or you're willing to learn, you might find Montreal to be the best value in all the land.
Overall, Canadian real estate prices haven't really decided which way to go as of spring 2019. It's a buyer's market in Vancouver and a seller's market in Ottawa. It looks like a win-win in Montreal and lose-lose in Calgary. And all that could change between now and the end of the year, but I wouldn't expect anything melodramatic. This is Canada after all, so we can almost always count on the cooler heads to prevail.
Further Reading
To learn more about housing trends and real estate prices in Canada, check out some of our other popular articles.
For more than 20 years, ARIANNE Relocation has been helping families and professionals move to and get settled in Canada. Visit our Let's Get Started page to read more about our range of relocation products and services.