If America was a rowdy house party, then Canada would be the friendly neighbor next door who doesn't bother to call the police and file a noise complaint. Famously easy-going, the Canadians have a well-deserved reputation for being kind, courteous and open-minded. We see this in their attitudes towards immigration, minorities and environmental protection.
Canadian policies on gay rights and gender issues, for example, are some of the most tolerant and progressive in the world. Whether it's same-sex marriage, women's equality or the protection of non-binary genders, Canadian laws and regulations have always met the highest standards of justice and equality. Even compared to the USA, Canada's tradition of civil rights sets a high bar and serves as a paragon of equal protection.
Gay Rights in Canada
Gays, lesbians, bisexuals and transgender persons of Canada enjoy some of the greatest legal rights and protections in the world. Homosexuality has been legal since the passage of the Criminal Law Amendment Act (also known asBill C-150) in June 1969. Compare that to the USA, where the Supreme Court did not make sexual activity between consenting adults of the same sex legal nationwide, until the case of Lawrence v. Texas in June 2003.
That's a quite a leap forward from the Canada of a century earlier. In 1869, parliament reduced the punishment for "buggery" from death to life in prison. But although there are instances of gay men being sentenced to death in the 1800s, such severe punishment never seems to have been carried out.
Bill C-150 and the Canadian Constitution
Pursuant to the Criminal Law Amendment Act of 1969, the law of the land underwent some major changes, including the decriminalization of homosexuality and the legalization of abortion in certain circumstances. Pierre Trudeau first introduced the bill in 1967, when he was still the Minister of Justice. By the time the bill passed, Trudeau was Prime Minister, and he described the sweeping legal changes by saying, "there's no place for the state in the bedrooms of the nation." And he added, "what's done in private between adults doesn't concern the Criminal Code."
Among other issues, C-150 made it legal for the first time to use, sell and possess contraceptives. Small scale gambling for the purpose of benefitting charities also became legal. The bill even marked the first instance of gun control in Canada, as individuals of "unsound mind" were prohibited from purchasing or owning a firearm. New and stricter laws on drunk driving also appeared in the landmark legislation.
The federal government expanded LGBT rights for Canadians with the Canadian Charter of Rights and Freedoms that was included in the Constitution of Canada in 1982, specifically with Section 15, which went into effect in 1985. According to Section 15, "Every individual is equal before and under the law and has the right to the equal protection and equal benefit of the law without discrimination and, in particular, without discrimination based on race, national or ethnic origin, colour, religion, sex, age or mental or physical disability."
The Case of Egan v Canada
Following the passage of Bill-150 in 1969, gay rights activism moved swiftly through the 1970s and 80s. The first Pride Week took place in August 1973, celebrated simultaneously in several Canadian cities. The annual festival remains a major event throughout the country, with parades, films and other thematic programming.
But things really came to a head in 1995, when the Canadian Supreme Court heard the case of Egan v Canada, putting Section 15 of the Charter of Rights and Freedoms to its first serious test. In a close and contentious ruling, the Court declared that discrimination on the basis of sexual orientation constitutes a clear violation of federal law.
The case involved a couple of gay men, James Egan and John Norris Nesbit, who had been intimately involved since 1948. Upon reaching the age of retirement, Egan became eligible to receive Old Age Security. The Old Age Security Act also makes certain guarantees and provisions for the spouses of OAS recipients. However, the Department of National Health and Welfare denied Nesbit his spousal allowance on the grounds that they were both men.
Egan, who had been a vocal activist in the gay rights movement for many decades, decided to sue the government. He took his case to Federal Court and lost. He appealed the case in 1993 and lost again. Finally, he brought his case before the Canadian Supreme Court and won by the narrowest of margins. Four judges ruled in Egan's favor, one judge concurred although he did not agree with the reasoning, and four judges expressed dissenting opinions.
Writing for the majority, Justice La Forest said, "I have no difficulty accepting the appellants' contention that whether or not sexual orientation is based on biological or physiological factors, which may be a matter of some controversy, it is a deeply personal characteristic that is either unchangeable or changeable only at unacceptable personal costs, and so falls within the ambit of Section 15 protection as being analogous to the enumerated grounds."
Same-Sex Marriage
One of the more recent hurdles to be overcome in the gay rights movement has been that of gay marriage. Once again, we see that Canada was well ahead of the curve. Canadians first began holding same-sex marriage ceremonies in the 1970s. Richard North and Chris Vogel of Winnipeg got married in 1974 under the officiation of a Unitarian minister. The two men eventually wound up in court as plaintiffs in the case of Vogel v Canada.
In 2004 their court victory succeeded in making same-sex marriage legal in the province of Manitoba. However, Manitoba has still refused to recognize the original date of marriage of North and Vogel, which took place well before same-sex marriage became legal. So their court battle lingers on. Most recently, the court of Manitoba ruled against them in 2018. Meanwhile, their 1974 certificate from the Unitarian Church hangs with pride in the Canadian Museum of Human Rights, in Winnipeg, Manitoba.
In 2003, the Ontario Court of Appeals ruled in the case of Halpern v Canada to make same-sex marriage legal in Ontario. In its decision, the court ruled that the common definition of marriage as being between one man and one woman violates section 15 of the Canadian Charter of Rights and Freedoms. Later that same year,  Ted Nebbeling of British Columbia became Canada's first serving cabinet minister to legally marry his same-sex partner.
Following a number of similar rulings by provincial courts, the federal government passed the Civil Marriage Act in 2005. The new legislation finally put into law what several smaller courts had already declared. The federal law also gave royal assent to the issue. Elsewhere, a decade later, the US Supreme Court ruled in 2015 that same-sex marriage could not be prohibited by a state law (Obergefell v Hodges).
Artist and Activist, Joe Average
One of the most encouraging and uplifting voices to come out of Canada's gay rights movement, Vancouver resident Joe Average has produced a tremendous series of very memorable and iconic posters and illustrations in the battles against AIDS and homophobia. Diagnosed with HIV in 1984, at the age of 27, Average decided to commit the rest of his life to art, and to live by his art. His bright, colorful and cartoony artwork adorns the streets of Vancouver, especially Davie Village, the city's gay district.
On April 23, 2019, the Royal Canadian Mint released a special dollar coin with art by Average, celebrating the 50th anniversary of the 1969 decriminalization of homosexuality in Canada.  "The Equality coin recognizes their triumphs and encourages all of us to build a better, more inclusive Canada—because like the coin itself, the more equality we have in Canada, the richer we all are," said Minister of Finance Bill Morneau. Randy Boissonnault, special advisor to the Prime Minister described the release as "an opportunity to reflect on a landmark event in our country's history, and a reminder of the progress still to be made as we work toward inclusion and equality for all LGBTQ2 Canadians".
Indeed, conservative groups came out to protest the new coin, proving that even in Canada, there is still work to be done. The mint also issued a limited edition of 15,000 ten-dollar coins with flashy rainbow colors.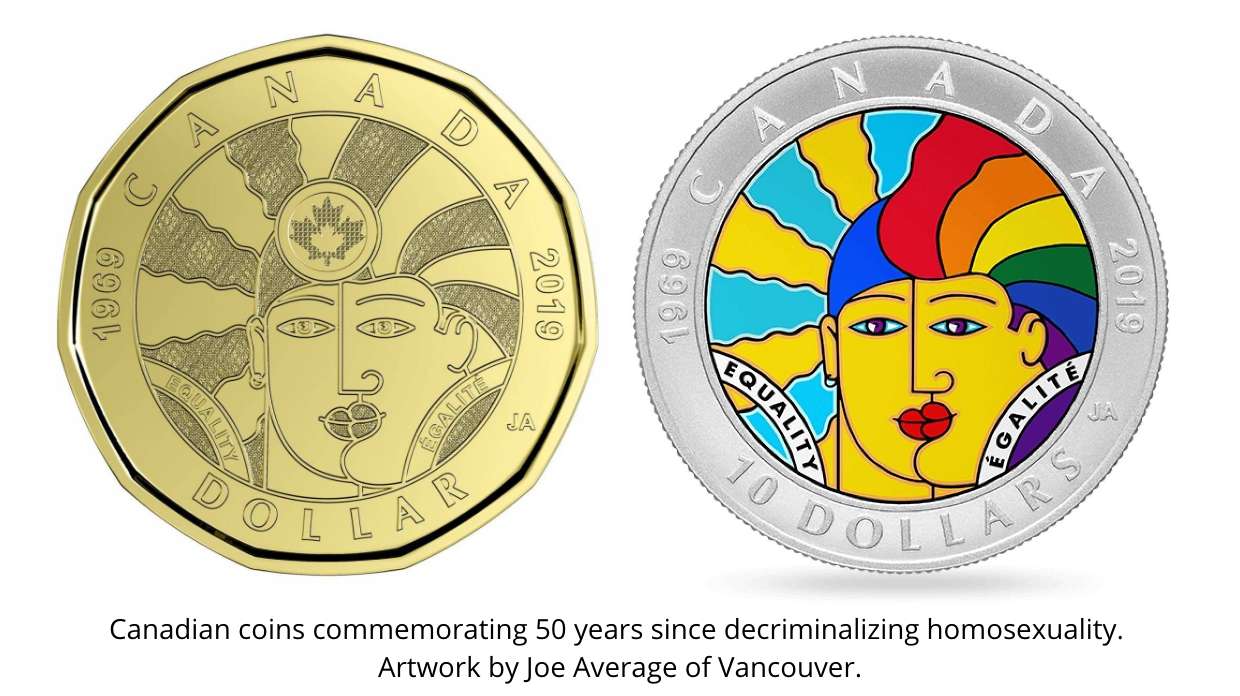 Where are the best gay neighbourhoods in Canada?
As one of the most "gay-friendly" countries on earth, you can be sure than gays and lesbians have fully integrated into Canadian society. At the same town, the major cities of Canada all have their distinctively gay neighbourhoods, all brimming with flamboyant glamour and charm.
DAVIE VILLAGE in Vancouver's West End is home to the city's highest concentration of gay subculture. Many homes and businesses fly rainbow flags. Little Sister's Bookstore is one of the better known and more outspoken businesses in the area.
CHURCH & WELLESLEY VILLAGE (also known simply as The Village) and QUEER WEST are Toronto's two hubs for LGBT society. Both neighbourhoods are filled with lively, gay-friendly bars and nightclubs. Toronto also hosts one of the biggest Pride festivals in North America.
GAY VILLAGE (Le Village gai) in Montreal is located in the Ville-Marie borough, mainly around St. Catherine Street East and along Amherst Street. By area, this is the largest gay neighbourhood on the continent, and it has become quite a tourist attraction. Pride is so strong here, you'll even see rainbow flags on government building and metro stations.
JASPER AVENUE in Edmonton is home to a small but growing LGBT community up in northern Alberta. Here you'll find a small handful of gay bars as well and other gay businesses.
OSBORNE VILLAGE in Winnipeg is best known for being at the centre of the city's art scene. Along with that, the neighbourhood is also home to a growing gay scene as well as a great selection of shops and restaurants.
Transgender Issues in Canada
As gays and same-sex couples have earned thorough protection and equality under Canadian law, the focus in recent years has turned to transgendered individuals. From public restrooms to passports, the issue has proved to be a thorny one. But as with gay rights and gender equality, Canada seems to be taking the lead. Yet many of the finer points still remain unresolved.
Legal Protections
The Canadian Human Rights Act of 1977 and the Canadian Charter of Rights and Freedoms of 1982 did not originally specify sexual orientation and gender identity. Egan v Canada of 1995 guaranteed protection for sexual orientation (see above). And since 2017, federal law has prohibited discrimination against gender identity or expression. This means that transgender people now enjoy the same legal protections as any Canadian and every other racial or sexual minority.
The House of Commons began considering the proposal in 2005. But it took 12 years of deliberation before they finally passed An Act to amend the Canadian Human Rights Act and the Criminal Code, better known as Bill C-16, to include a clause on "gender identity and expression".
The government has conceded that gender identity may not necessarily conform to a person's given sex at birth. Furthermore, gender is such a deeply intrinsic aspect of a someone's character. Therefore, discrimination based on gender identity represents a serious violation of a person's human rights.
Birth Certificates for Non-binary Genders
Among the greatest challenges in acknowledging the personhood of transgender people comes in issuing their birth certificates. From the day they are born, every person is assigned a gender. The birth certificate, and every other form of identification has a box for male and a box for female, and one of them must be checked. But new understandings and sensitivities about gender are rendering this binary category somewhat obsolete.
In the past decade, increasing numbers of people have been petitioning to alter the sex as recorded on their birth certificates. In Canada, each province has established its own requirements to alter their sex. Between 2014 and 2017, most provinces stopped requiring sex-change surgery. Now petitioners can usually declare a change of sex based on a sworn statement and a signed letter from a physician or a psychologist.
Hate Speech and Non-binary Pronouns
Among other provisions, Bill C-16 addresses hate propaganda, incitement to genocide, and aggravating factors in criminal sentencing. More than just an anti-discrimination law, Bill C-16 aims to protect transgender people from hate speech and to issue harsher sentences for hate crimes.
Many interpretations of this protection from hate speech say that non-binary genders are entitled to non-binary pronouns. More radical interpretations say that using the wrong pronoun could itself be a form of hate speech. For this reason, critics of the new law claim that anyone could be accused of hate speech, simply because they aren't familiar with new and neuter pronouns like sie, zie and xe.
In fact, Bill C-16 makes no specific mention of pronouns, non-binary or otherwise. And it seems that the idea of being prosecuted for misuse of pronouns as nothing but a scare tactic. Whether or not the use of this scare tactic qualifies as hate speech remains uncertain, but it looks to me like a matter of genuine concern.
If you'd like to judge for yourself, you can watch this ongoing controversy play out in real life on YouTube. The University of Toronto professor Jordan Peterson has become something of spokesperson and a lightning rod for those opposed to Bill C-16. His lectures on Dostoyevsky and archetypal psychology are fascinating and filled with insight. But when he gets into gender identity and his mischaracterization of post-modernism, he quickly slides off the deep end.
It's true that gender identity issues remain somewhat more controversial than gay rights and same-sex marriages, which have gone almost entirely mainstream. But for what it's worth, Jordan Peterson's position is by no means representative of Canadian attitudes at large. In 2107, Prime Minister Trudeau, a leading advocate of gender rights, issued an incredible and far-reaching apology on behalf of the Canadian government.
"It is with shame and sorrow and deep regret for the things we have done that I stand here today and say: We were wrong. We apologize. I am sorry. We are sorry… To members of the LGBTQ2 communities, young and old, here in Canada and around the world: You are loved. And we support you. To the trailblazers who have lived and struggled, and to those who have fought so hard to get us to this place: thank you for your courage, and thank you for lending your voices."
In 2015, Estefania Cortes-Vargas, member of the Legislative Assembly of Alberta, came out as non-binary, becoming the first transgender-identified Canadian to hold a major political office. Media had formerly identified her as a woman and a lesbian.
Gender Equality
Given the status of gays, lesbians and transgender people in Canada, it's no surprise that women also enjoy a very high degree of equality in Canadian society. The story of women's rights in Canada is not very different from their southern neighbours. Just a few steps ahead, as usual. While the 19th Amendment gave American women the right to vote in 1920, most Canadian ladies had gained suffrage by 1916. Women in the Maritime provinces got voting rights a few years later, and in Quebec not until 1940.
Another wave of women's liberation swept through both countries in the 1970s. In 1977, the Canadian Human Rights Act gave basic rights to all humans, including ethnic minorities, women and gays, as described above. And the Charter of Rights and Freedoms further extended and guaranteed those rights between 1982 and 1985. In 1988, the Canadian Supreme Court ruled that the Charter also protected a woman's access to safe and legal abortion options.
Canadians recognize the equality of men and women, especially the importance of treating them as equals in the workplace. Federal law and numerous provincial laws are in place to enforce this. The reality, however, is that Canadian women still receive only 87 cents for every dollar earned by Canadian men, according to Statistics Canada.
Interestingly, Canadian law also draws a distinction between pay equality and pay equity. When Canadians speak of pay equality, they are talking about the idea that men and women performing the same work should receive the same pay. Pay equity, on the other hand, refers to the idea that female dominated professions should have an equivalent pay structure to male dominated professions, if those professions are considered to be of comparable importance. For example, if the work of nurses (mostly women) is considered of equal value to the work of electricians (mostly men), it's necessary to see that nursing wages are on par with electricians' wages. In other words, pay equality protects individual women as employees, whereas pay equity is concerned with collective women in certain professions.
Recent developments in women's rights have focussed on social media, workplace harassment and rape culture. In 2018, parliament passed a bill to amend the Canadian national anthem, making it more gender-neutral, by changing "thy sons" to "of us".
Conclusions
When we look at the laws and the history surrounding gay rights and transgender issues in Canada, it's clear that this is one of the most LGBTQ2-friendly nations in the world. Even compared to the United States, Canada has consistently been about a decade ahead of the curve in granting and protecting the rights of women, gays, and non-binary genders. From the work place to the halls of government, women and minorities enjoy almost complete equality.
But the work is never simply finished. These freedoms are delicate, and citizens of the civilized world must always be prepared to defend them from groups and individuals who wait in the shadows to turn back the clock. With every wave of progress, there is the potential for a backlash. From the opposition to non-binary pronouns to the rise of anti-immigrant groups and hate crimes, the threat of ignorance and intolerance remains. In the fight against ignorance, our greatest weapon is knowledge. To prevail, we must always strive to know more: more about our history, more about our neighbours, and more about ourselves. Only by spreading the light we can we vanquish the darkness.
Further Reading
To learn more about Canadian culture, LGBT, civil liberties and human rights, check out some of our articles:
ARIANNE Relocation has been helping students, families and professionals move to Canada for more than 20 years. It's our pleasure to see that your relocation goes as smoothly and successfully as possible. Check out our Let's Get Started page to see how we can help.