The city of Toronto is located in the province of Ontario. It is Canada's largest city and the fifth most populous city in North America, with just under six million in the Greater Toronto Area. A hub for banking and technology, Toronto is considered to be the economic capital of the country.
If you're considering moving to Toronto and purchasing property in or around the city, be sure to check our articles on 2019 Real Estate Trends in Toronto and Canadian Real Estate laws every newcomer should know.
Like many North American cities, Toronto sprang up on the waterfront.  A 46-kilometre coastline forms the city's southern boundary, on the northwest shore of Lake Ontario. From there, Toronto slopes gently upward into rolling hills and plateaus.
As observed by many architects and specialists, the city has no distinct architectural style. The neighbourhoods of Toronto express a wide variety of flavours, life styles and atmospheres. The neighbourhoods all have a special identity, largely thanks to the city's rich cultural diversity.
Indeed, Toronto is a city of neighbourhoods. It would be hard to name them all, as there are officially about 150 neighbourhoods in the city. Some of the neighbourhoods began as villages or towns of their own, but were gradually swallowed up by the sprawling metropolis, and are now part of the city of Toronto.
Overview of Toronto Neighbourhoods
The following are generally considered to be the largest, most important, and most interesting areas and neighbourhoods of Toronto.
Downtown (old city of Toronto, Central)
The historic core remains the most densely populated area of the city. Old Toronto is divided geographically into quadrants (Central, North, West and East), each comprised of a dozen or more smaller neighbourhoods. Downtown (Central) is the main business district of the city, home to the skyscrapers that form Toronto's famous skyline.
Here you'll not only find a bustling Financial District, including the Toronto Stock Exchange and numerous major banking headquarters, but also the Entertainment District, as well as a wealth of theatres, restaurants and boutiques. Some of the city's oldest and most interesting architecture can also be seen here. And be sure to visit Nathan Phillips Square, the largest open air public plaza in the city, flanked by Toronto's impressive City Hall and the Old City Hall, and featuring a skating rink, a reflecting pool and a Peace Garden commemorating the victims of Hiroshima.
Old Toronto, North End
This affluent section of the city, often called Midtown, just above downtown, includes Bedford Park, recently named the wealthiest neighbourhood in Canada. Chaplin Estates is another wealthy enclave of North Toronto, while Allenby is a bit more affordable. Many consider the Yonge-Eglinton neighbourhood (see below) to be one of, if not the nicest part of town. Another highlight of this area is Casa Loma, home to the famous castle of the same name. The striking gothic architecture has made the mansion and its prepossessing gardens a popular venue for weddings and film shoots.
Old Toronto, West End (limited to the south by Lake Ontario)
A sprawling conglomeration of neighbourhoods, the West End contains many of Toronto's myriad ethnic communities. Some of these include Corso Italia, Little Malta, Koreatown, Little Italy, Little Portugal, and Little Tibet. Little Italy may not be as Italian as it once was, but you can still count on finding some great pasta and gelato here, not to mention a fantastic selection of popular bars and cafes.
Old, Toronto, East End
Originally a city of its own, East Toronto was annexed in 1908. Today it encompasses Greektown, Little India, and the Beaches, where you'll find the best coastal access to Lake Ontario, as well as a fantastic Jazz Festival every July. The western end of Danforth is now the home of the second largest Greek community outside of Greece. And for more than just souvlaki and baklava, don't miss Toronto's largest annual culinary festival, Taste of Danforth.
Etobicoke
Like a city in itself on the west side of the Humber River, Etobicoke is made up of a few dozen neighbourhoods. Heavy industrialization and suburban housing developments characterize this area. Homes in this part of town run from $7-800,000 for something simple up to well into the millions for something more luxury in neighbourhoods like Princess Gardens. You can also find an abundant supply of condos in the half-million dollar range.
North York
North of Downtown, between Etobicoke and Scarborough, this very urban part of Toronto features another central business district with a number of corporate headquarters and high-density residences.
North York is very ethnically and culturally diverse. Parkway Forest has the highest percentage of recent immigrants in the GTA, about 24% having moved to Canada within the last five years. Many neighbourhoods now have a visible minority rate of more than 90%, Jane and Finch and Weston-Finch, for example. Toronto's highest concentration of of Black Canadians live in Amesbury, while the Hillcrest Village area is more than 50% Chinese.
York
An assortment of old neighborhoods between Downtown and North York, the neighbourhood of York was a separate city until the amalgamation of 1998. The city of York contains several former villages, including Lambton Mills and Weston. Here you'll find a mix of residential housing, offices, box stores and smaller businesses.
Just don't confuse the neighborhood of York with the York Region to the north of the city. This regional municipality extends all the way to Lake Simcoe and includes many more rural and suburban townships.
East York
Across the Don River from Toronto, East York wasn't amalgamated into the "mega-city" until 1998. This densely populated area is made up primarily of high-rise housing developments, and working-class and middle homes. Like North York, immigrants have come to make up the majority of the population in this area as well. Besides a decent selection of condos, you'll have a hard time finding anything here with more than two bedrooms for less than $1 million.
Scarborough
On the eastern side of the city, atop the Scarborough Bluffs, this highly urbanized area has become another popular destination for immigrants and new arrivals. Consequently, this is now one of the most ethnically and religiously diverse parts of Toronto. It's also home to the Toronto Zoo and Rogue Park, two of the city's major landmarks. You can find plenty of condos and suburban housing developments here, and lots of green space as well.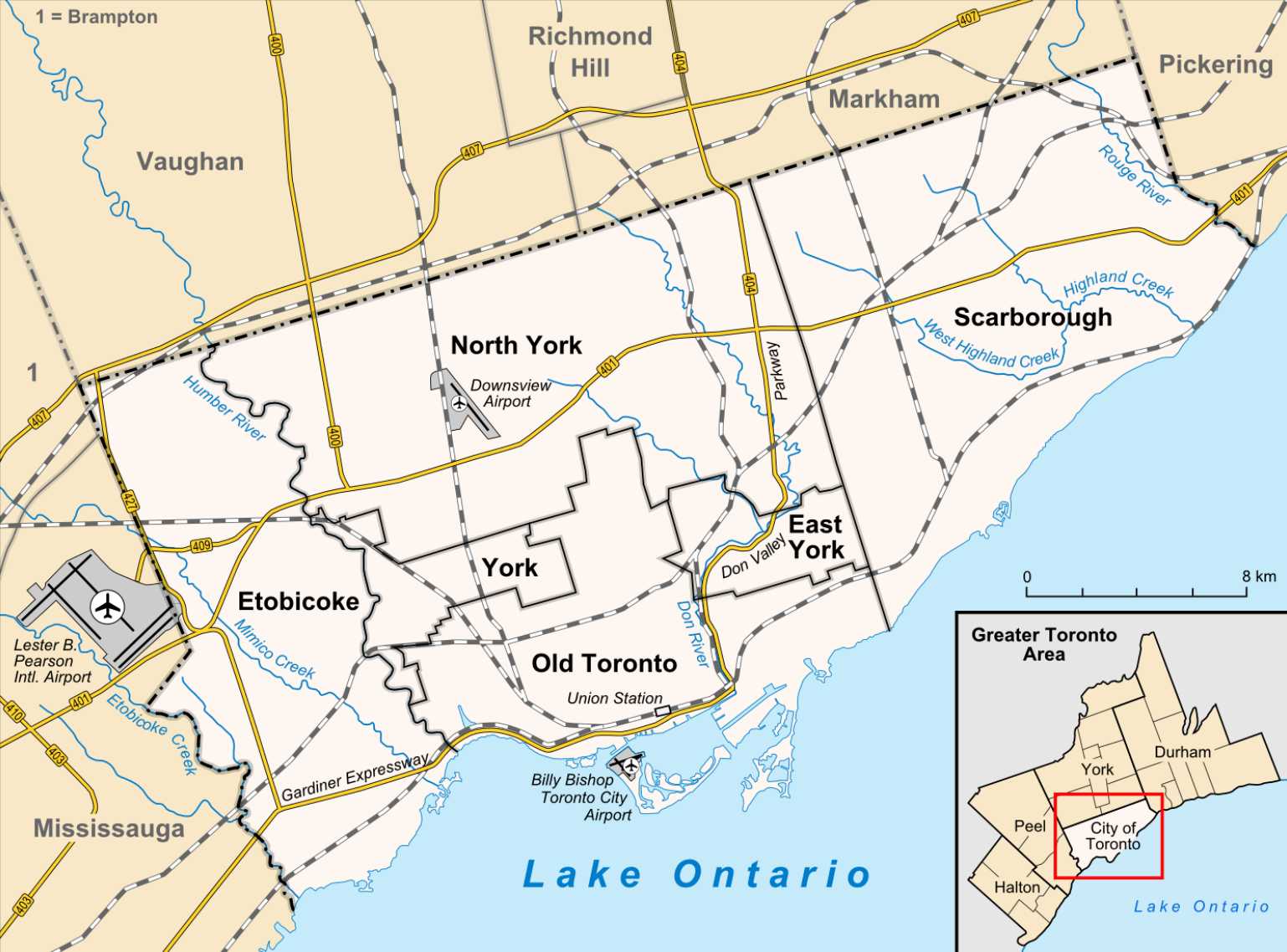 Notable Neighbourhoods of Toronto
Whether you're looking for a cool place to live, or just an interesting place to get out and people watch, the following list includes some of the most distinctive locales in  the city.
Queen West
A narrow stretch of Toronto that runs from Downtown eastward all the way to Yonge Street, Queen West is both the name of the street and the name of the neighborhood (technically a Business Improvement Area.) At one time a community of Jewish refugees, then Polish immigrants, then Portuguese, recent gentrification has transformed Queen Street West into a buzzing hive of avant-garde galleries, trendy eateries, and funky shopping. Some of the city's coolest art and music venues are here, too, like the Gladstone Hotel. And you'll want to keep an eye out for Graffiti Alley. As for housing, it's definitely one of the pricier parts of town, and almost exclusively condos and apartments.
Church and Wellesley
A small neighborhood in the Central Downtown area, often referred to simply as The Village, this is the epicenter of Toronto's LGBT community, although you'll find the entire city to be very tolerant and gay-friendly. The historic victorian homes add a bit of ambiance to the neighbourhood, but most of the local flavor consists of ubiquitous rainbows. Here you'll find an inexhaustible supply of cafes, coffeeshops and boutiques. And we hardly need to mention to gay bar scene, with something to stimulate literally every taste and type.
Gay Pride month is June, when things really go full scale, especially in the last weekend of the month, when the Pride Parade takes Toronto by storm. Not everyone is equally comfortable with overt gay pride, but Torontonians generally consider The Village a pretty desirable place to live. And real estate rates support that fact.
With LGBT acceptance fairly widespread in Canada, gays, lesbians and transgender people can now live safely and comfortably throughout the city. That's good news, because many, especially younger ones, can no longer afford to live in the village. Parkdale, sometimes called Queer West, is another very gay-friendly neighbourhood of Toronto.
To learn more, check our articles on LGBT in Toronto and Gay Rights and Gender Issues in Canada.
The Distillery District
A small area just east of Downtown, this district has been designated as a National Historic Site in Canada. Come for the exquisite architecture, stay for the delicious eateries. It is teeming with a mix of modern glitz, Victorian-era buildings and a fabulous selection of shops, bars and restaurants. Still a very white neighbourhood (in terms of ethnicity), the hip and trendy Distillery District is most popular for young people, but not an ideal place for families with young kids.
Cabbagetown
Another small neighbourhood in the center of the city, it is known for having the largest area of preserved Victorian housing in all of North America. The neighbourhood was founded by Irish immigrants in the mid-1800s, supposedly so poor that they grew cabbage in their front yards (long before the "Food not Lawns" movement became a thing.)
A few decades of gentrification have made Cabbagetown one of Toronto's most popular places for millennials and families alike. Although it comes with a pretty hefty price tag, significantly more expensive than living in most other neighbourhoods, you'll find plenty of perks. The weekly farmer's market is one of the best in the city. And the Cabbagetown Festival in July also attracts an eclectic mix of artists, musicians and anyone looking for a good time.
Liberty Village
A haven of yuppies and high-tech upstarts, this centrally located neighbourhood on the West End is walking distance from the lakeshore and has quick streetcar access to the entertainment district and the financial core. In recent years it's become a very popular place both to live and to go out for a bite or a drink. Old brick factories and warehouses have been converted into cafes, art galleries, yoga studios and live work spaces. Expect to pay about $2000/month for a two-bedroom apartment, somewhat pricey, but still a bargain compared to living in the downtown core.
Parkdale
In a city of unsurpassed diversity, this colourful neighbourhood, also on the West End, wears the crown. A large supply of residential rental property has made the area popular for new immigrants, and the selection of restaurants will attest to that: Tibetan, North African, West Indian, just to name a few. A vivid mix of treelined streets with old Victorians, quirky commercial districts, and semi-modern apartment buildings give Parkdale an authentic sense of community.
Yonge-Eglinton
On the north side of Downtown, Toronto Life magazine ranked this the most desirable neighbourhood in all of Toronto, based on a wide spectrum of criteria, including housing, health, safety, employment, etc. These factors have all contributed towards making this part of town especially popular for young families, who have rushed in to fill the multitudes of condominiums.
Centrally located in upper midtown, this is one of the city's chief business districts. In addition to the Canada Square Complex and a number of major corporate headquarters, you can discover a great selection of restaurants and high-end boutiques. And all things considered, the rental rates in Yonge-Eglinton are fairly reasonable.
Yorkville
Rounding out the list with one last York, Yorkville makes up an important part of downtown Toronto. The district includes a mix of residential and commercial zones, and some of the most high-end retail shopping in the world. Upscale boutiques, restaurants, hotels and galleries have earned Bloor Street and the "Mink Mile" an international reputation. With $3 million, you might consider buying a nice little condo in this neighbourhood!
Learn more
We hope this overview of Toronto has helped you get a glimpse of Canada's most populous metropolis. If you should need more help finding your way around in your new city, remember that ARIANNE Relocation Specialists are never more than just a click away!
For more information about living in Toronto, Canada, check out these helpful articles and links:
PHOTO CREDIT: Old Toronto, downtown, by Scott Webb (Unsplash)