Perhaps you've heard something about Canadian immigration programs. Canada is famously open to foreigners and immigrants. And the rumours are true. In fact, in some major cities, like Toronto, nearly half of the residents were born outside of Canada. As the neighbor to the south increasingly tightens its borders, and immigration to the U.S. becomes more and more difficult, Canada is doing what it can to encourage the intake of skilled workers, talented students, and foreign investors. The country also has favorable policies for refugees, retirees and entrepreneurs.
But before you make plans to move to Canada, you'll need to carefully decide which visa program is right for you. Luckily, you have a wide variety to choose from. But with such a vast range of options, selecting the best path to immigration is not always easy.
Immigration Options in Canada
The following is an in-depth overview of the many visa programs currently offered by the Canadian government and the Immigration, Refugees and Citizenship Canada (IRCC).
In this article we will cover the most common Canadian immigration options and related topics.
Study Permit
International Experience Canada (IEC): Working Holiday, Young Professional and International Internship programs
Family Class Visas and Super Visas (FC)
Canadian Experience Class (CEC)
Federal Skilled Worker Program (FSWP)
Federal Skilled Trade Program (FSTP)
Express Entry and the Comprehensive Ranking System (CRS)
Labour Market Impact Assessment (LMIA)
Provincial Nominee Programs (PNPs)
Quebec Selection Certificate / Certificat de Sélection du Québec (CSQ)
Refugee Status and Political Asylum
Canadian Citizenship
We also cover these topics in detail in our city-specific Online Relocation Guides. Or you can visit the CIC website for additional information.
Study Permit
If you are young and interested in living in Canada, this is probably your best option. Canada is home to some very fine universities, and a degree from a Canadian institution is respected around the world.
First you will want to apply to a handful of schools in Canada. Once you receive a letter of acceptance and choose to enroll, you can apply for a study permit. This is a very straightforward process, so long as you have a clean police record and you or your family have sufficient financial resources to support you during your studies.
With a study permit, you have permission to live and study in Canada as a temporary resident. If you want to work a part-time job, either on-campus or off-campus, you can also do that. You will not need an additional work permit.
Your temporary residence effectively expires upon the completion of your studies. But you will have numerous options to extend your stay if you so desire. The federal government and the provinces all have programs to help international students become permanent residents in Canada. If you already have Canadian work experience or special training in a high-demand field like medicine or engineering, that will count in your favor. Having a job offer from a Canadian company will also help you on your path to permanent residence.
Check out our comprehensive article on Moving to Canada as a student to learn more.
International Experience Canada (IEC) Working Holiday Visa 
This is another great immigration program that's very popular for young people (18-35 years old). If your country qualifies (see below), you can live and work in Canada for 1-2 years. Unlike a lot of economic class visas, the Working Visa Holiday does NOT require you to have a job offer from a specific company. This is called an "open" work permit. Holders of this permit are free to travel around the country and apply for work from different employers.
To apply, you will need to create an account with the IRCC. Check the government website for complete application details.
The IEC also offers a Young Professionals program and an International Co-op Internship program that involve an employer-specific work permit. For an employer-specific work permit, candidates must have a job or internship offer before they can apply. Employers must comply with all labour laws and minimum wage requirements for their province or territory. Internships may be paid or unpaid.
Once you receive the work permit, you can live and work in Canada for a set period of time, usually 1-2 years. You are also free to work for the same company at different locations within the country.
In order to be eligible for an IEC program, your country must have a bilateral Youth Mobility Arrangement with Canada. The maximum duration of your visa will depend on your country's specific agreement. Check the Canadian government website for complete eligibility requirements and details pertaining to your country.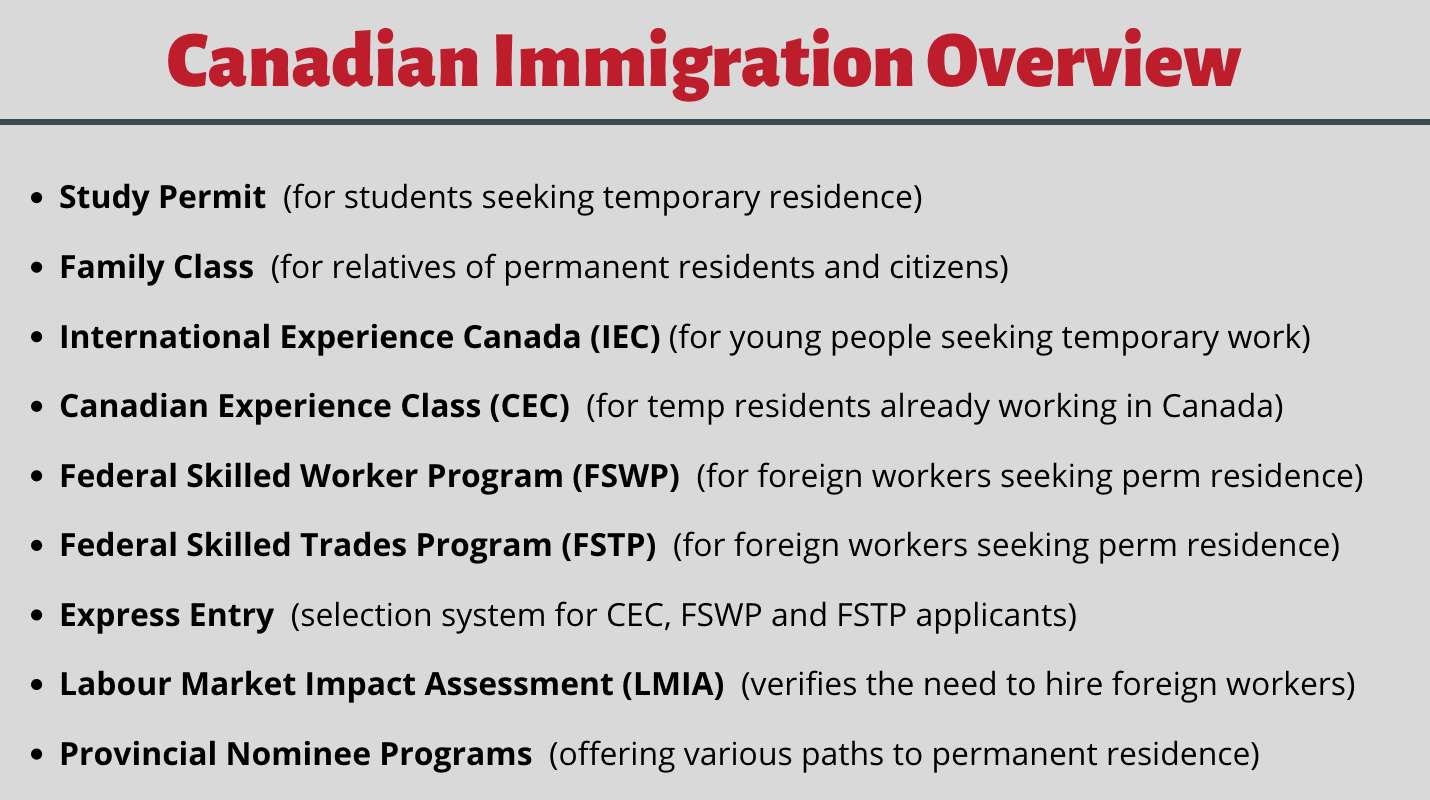 Family Class (FC)
The Family Class visa program allows Canadian citizens and permanent residents at least 18 years old to sponsor family members wanting to move to Canada. Foreigners who have achieved permanent residence often use this program to sponsor a spouse and/or children. Meanwhile, parents and grandparents of Canadian residents and citizens are eligible for what's called a Super Visa.
The Canadian government recognizes the importance of keeping families together, and they've made this a key feature in their national immigration policy.
Visit the government website for more details or to apply.
Labour Market Impact Assessment (LMIA)
A Labour Market Impact Assessment (LMIA) is a document that an employer in Canada MAY need before hiring a foreign worker. The assessment looks at whether the company needs to hire a foreigner or can simply hire a Canadian. A positive LMIA will show that there is a need for a foreign worker to fill the job. It will also show that no Canadian worker is available to do the job. The positive assessment is sometimes called a confirmation letter.
When an LMIA is needed, it is the responsibility of the employer to obtain it and pay for it. When the employee applies for a work permit, s/he may have to provide a copy of the LMIA along with the other documentation, including proof of the job offer.
Foreigners from certain countries may need an LMIA to qualify for some of the economic immigration programs listed below.
Check the CIC website for more details.
Canadian Experience Class (CEC)
This immigration program is open to people who already have 12 months skilled work experience in Canada and wish to extend their stay by becoming permanent residents. In order to be eligible, you must meet the language proficiency requirement for either French or English. You also need to demonstrate that your work qualifies as skilled, according to the Canadian National Occupational Classification. Finally, you must have at least one year of work experience in Canada within the previous three years prior to applying.
The Express Entry system now manages all CEC applicants. (See Express Entry, below.)
Go to the government website for more details and to apply.
Federal Skilled Worker Program (FSWP) / Federal Skilled Trades Program (FSTP)
Foreign workers with special skills can apply for permanent residence in Canada through either of these immigration programs. The programs apply to jobs and professions that require special training and are in especially high demand. In order to qualify, candidates must meet certain language, education and work experience requirements.
The Express Entry system now manages FSWP and FSTP applicants. (See Express Entry, below.)
The IRCC assesses FSWP applicants according to a point-based system. The scoring looks at six factors, including age, education, work experience, whether you have a valid job offer, English and/or French language skills, and adaptability (how well you're likely to settle in Canada). Applicants with a passing score then enter the Express Entry pool, which uses a different point system.
FSTP applicants must meet certain language and work experience criteria. They have no education requirement, although a higher level of education will improve their Express Entry score. Candidates must also have either a full-time job offer or a certificate of qualification in a skilled trade.
Check the Canadian government website for more info.
Express Entry
The IRCC uses the Express Entry system to manage permanent residence applications from skilled workers and economic class immigrants. This includes the CEC, FSWP and FSTP programs. Some Provincial Nominee Programs (PNPs) are linked with the Express Entry program. (See PNP, below.)
The federal government intends to process the majority of Express Entry applications within six months, making it a much faster immigration alternative than anything previously available.
Foreigners can begin by creating an online profile. Once the IRCC accepts your application, you are entered into the Express Entry pool. Within the pool, the IRCC ranks each candidate according to a points-based system. The Comprehensive Ranking System (CRS) looks at a number of factors, including age, skills, education, language ability and work experience.
Every few weeks, the IRCC holds an Express Entry Draw. Based on the number of immigrants the country wants to admit, and the CRS scores within the Express Entry pool, Canada announces a cut-off score. They then issue an Invitation to Apply for residency (ITA) to everyone with that CRS score or higher. In 2018, Canada offered a total of 89,800 ITAs.
Check out our article on Moving to Canada and finding a job or visit the government website for more info.
Provincial Nominee Programs (PNP)
In addition to all of the federal immigration programs listed above, every province and territory (except for Nunavut and Quebec) offers its own distinct Provincial Nominee Programs to attract immigrants who are most desirable for the economy and labour market of that region. These are some of the most popular paths to permanent residence in Canada.
With several dozen options to choose from all across the country, there are PNPs for foreign skilled workers, international students, entrepreneurs and business people. Some PNPs apply to foreigners who have never been to Canada, and others are available to students and workers already living in the country as temporary residents.
Each participating province offers at least one immigration stream linked to the Express Entry system. And one of the best ways to improve your CRC score is with an enhanced nomination (from an Express Entry-aligned PNP). For this reason, it can be very advantageous to apply through a PNP from the beginning. In most cases, the cut-off score has been around 450 points. Candidates with enhanced nominations through a provincial program are awarded 600 points. This effectively guarantees them an ITA in the next draw.
Check out our comprehensive article on Provincial Nominee Programs in Canada for complete details.
Immigration Programs for Québec
French Canada has its own system for selecting immigrants. For the most part, they are pretty similar to the federal programs, but they use their own bureaucracy to manage to the process. So if you're heading to Montréal or elsewhere in the Province of Québec, you'll need to apply through them. Check the Québec website for complete details.
In most cases, part of your immigration process will be with the provincial government, and another part through the federal government. Foreign skilled workers, for example, need to apply for a certificate from the Province of Quebec. After you have the Quebec Selection Certificate / Certificat de Sélection du Québec (CSQ), you must apply to Immigration, Refugees and Citizenship Canada (IRCC) for permanent residence.
Refugee Status and Political Asylum
With many areas of the globe feeling the effects of political upheaval and social unrest, many unfortunate victims are looking to Canada for safety and sanctuary. Indeed, as the international crisis persists, Canada has remained very proactive in providing assistance and support to some of the world's most desperate people.
Canada and the IRCC essentially offer two paths to refugee status for those who qualify. One such program is for people already in Canada or at the border, and the other is for individuals outside of Canada. In order to be eligible, a person most show that they cannot return to their home country without facing a serious threat to their personal safety. In most cases, this is due to an ongoing state of violence or a dangerous climate of political persecution.
Refugees arriving at the border should declare their intent to apply for refugee status immediately, with the Canada Border Services Agency (CBSA). Those already in Canada, whether legally or not, should go to the nearest IRCC office to apply. They can also go online to download the refugee status application.
NOTE: Refugees cannot enter Canada from a "safe third country", and that includes the United States. As of April 2019, refugees arriving in Canada at the U.S. border will be turned away.
From outside of the country, a person cannot apply directly for refugee status. They must have a referral from the United Nations Refugee Agency (UNHCR) or a private sponsorship. Once referred, individuals can check the government website for more information about applying as a Convention Refugee or a Humanitarian-Protected Person Abroad.
You can also refer to our in-depth article on Moving to Canada as a Refugee.
Citizenship
Once you've earned permanent residence in Canada, through any of the programs described above, you are well on your way to Canadian citizenship. In addition to the benefits of Canadian residence, citizens can also vote in Canadian elections, travel with a Canadian visa and spend an unlimited time outside the country without losing their residency status.
As a permanent resident, you will need to meet the following requirements in order to qualify for citizenship:
be at least 18 years old
have lived as a permanent resident in Canada for at least four years out of the past six
have been physically present in Canada for 183 days of each year during the previous four-year period
have correctly filed your taxes for at least four years out of the past six
be fluent (speaking and writing) in either English or French
have a clean criminal record
Some countries will require you to give up your native citizenship in order to take on Canadian citizenship. In rare cases, you may be able to obtain dual citizenship. Check with your own country for more specific information.
For more details, check out our article on How to become a Canadian citizen.
Conclusions
As you can see, there are quite a few options to choose from. So what's the best immigration program for you? That's going to depend on a number of factors.
The first factor would be your age. If you're young and looking into post-secondary education, a study permit in Canada could be an excellent way to get a foot in the door. Or, if you're young but already out of school, the International Experience Canada programs may be your best. Assuming all goes well during your temporary stay, you can usually extend your visit and become a permanent resident.
Another factor is whether you already have friends or family in Canada. If you have relatives in the country, the best path will be through a Family Class visa. If you have good friends living in the country, then you might consider a Provincial Nominee Program to immigrate to that same region. Manitoba even has some PNP streams specifically for people who have close ties with someone in the province.
Finally, if you have special training or experience in a high-demand profession, you will probably have the most options. Depending on your skills and experience, you could qualify for the FSWP or FSTP. Or if you are interested in moving to a specific province, you can look into the PNPs.
Depending which programs make the most sense, you may want to begin by applying for jobs in Canada. Many programs do require a valid job offer, but many others do not. Or you may want start at home, by gaining more experience in a specific field.
In any case, with a little hard work and patience, there is almost certainly an immigration option that is right for you. And hopefully this article has helped you to narrow down the options and focus on your best path to Canadian residence.
Further reading
For more in-depth information, we have a series of articles on programs for different categories of immigrants.
Immigration Consultants
Should you require immigration assistance services, we recommend getting help only from professionals regulated by The Immigration Consultants of Canada Regulatory Council.
Hopefully this we help you see a clear path to get yourself living and working in Canada. Once you've got your visas and work permits organized, you can reach out to ARIANNE Relocation Specialists for additional guidance in making a smooth transition to your new home!