Moving to Canada might be the biggest decision of your life. And we'd like to think it's also the best decision of your life. Canada is an incredible country, filled with wonderful people, natural beauty, economic opportunity and political stability. But that doesn't mean moving there will be easy. You may encounter obstacles, and you will have hundreds of decisions to make along the way. One of the very first and most important of them will be deciding where to live when moving to Canada.
In some cases, the choice might not be yours to make. Maybe your company is transferring you to a new office in Toronto, or you've been accepted to a prestigious university in Montreal, or you're moving to be closer to family in Vancouver. If your situation resembles one of these, then you probably won't have to decide. But if you're moving independently, looking to make a fresh start in a new country, then you'll want to weigh your options carefully.
Certain features of Canada will be similar throughout the country, but you will still find some great differences between living in a prairie province vs living on the west coast, living in Toronto vs living in a small town, or living in French Canada vs living in the English-speaking portion of the country. In order to make the best decision, you will need a clear understanding of your own priorities, hopes and expectations.
What is it you're looking for in Canada? What do you want out of this experience? These are the kinds of questions you need to answer before deciding where to live in Canada.
For a thorough overview of the entire process, be sure to review these key articles:
Benefits of moving to Canada
As we mentioned above, there are a number of compelling reasons why people might decide to move to Canada. Often they come for the abundance of economic opportunities. Sometimes they are attracted by the country's vast open spaces and unparalleled access to nature and wildlife. In other cases, people are leaving countries torn by political strife and civil unrest, and few places on earth can match Canada as a land of peace and prosperity.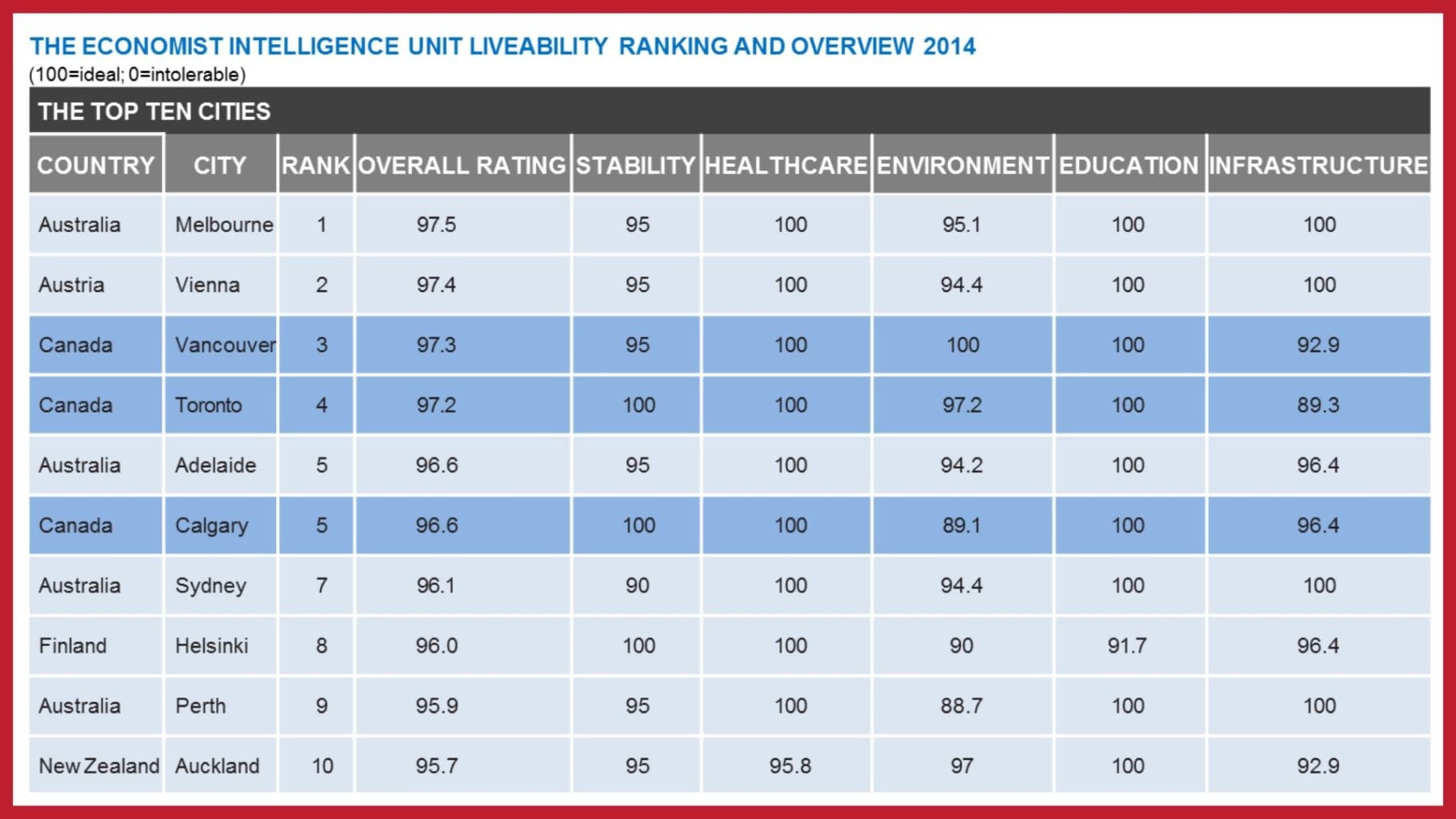 It all comes down to the quality of life. Year after year, independent surveys consistently rank cities in Canada among the most livable cities in the world, based on factors like healthcare, education, environment and infrastructure. By and large, Canadians are among the safest, healthiest and happiest people on earth.
The only real downside to living in Canada, if we had to name one, would be the climate. Like some of the other happier and more prosperous societies on the planet — I'm thinking of Norway, Denmark and Finland — Canada is located up north. In fact, the country stretches well into the Arctic Circle. Although the overwhelming majority of Canadians occupy just a narrow strip on the southern edge of the country bordering the United States.
Even so, it can get pretty cold. If you're coming from Lithuania, this won't be such a problem. But if you're moving from Brazil, you'll have to make some adjustments. In any case, the cold winter is hardly something you can't overcome with a good heating system and proper winter attire, both of which are readily available in Canada. Furthermore, you can still find quite a difference in the climate between, say, Vancouver and Edmonton, or even between Toronto and Montreal.
Benefits of moving to Toronto
As the country's economic capital most populous city, Toronto has long been the top destination for immigrants relocating to Canada. Nearly six million people make their home in the Greater Toronto Area (GTA), and statistics indicate that approximately half of the city's population were born outside of Canada.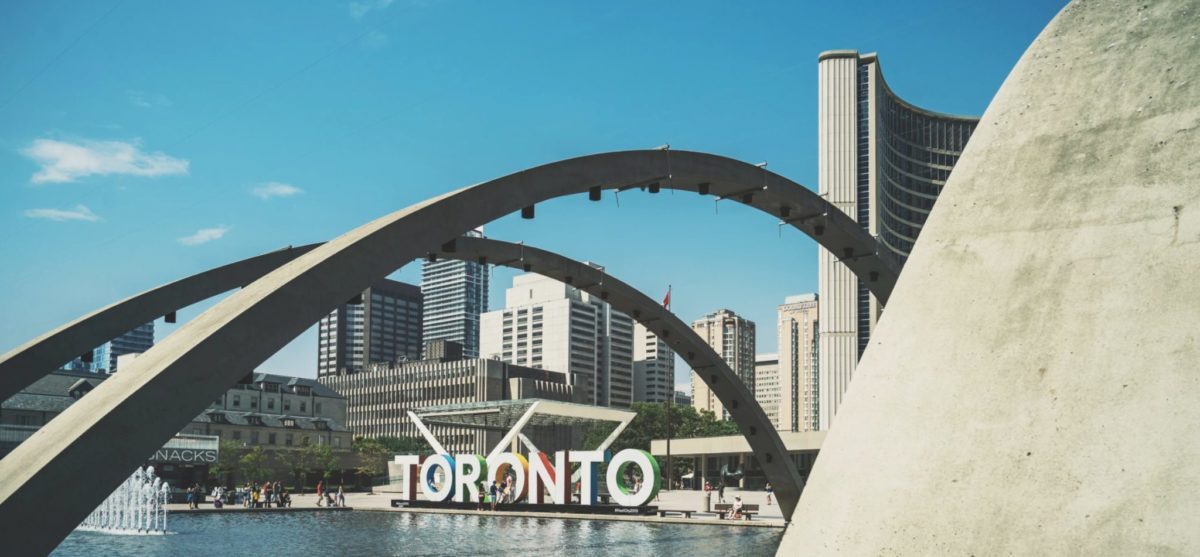 ECONOMY
When moving to a new country, one of your first priorities will likely be finding a job, so you'll probably want to move to an area with a vibrant economy. Toronto is booming with industry, especially in the media, technology and financial sectors. The city also serves as a hub for the manufacturing industry and hydroelectric power. And with a steady influx of immigrants and new residents, you can be sure that there is always plenty of construction taking place. Toronto is also a very popular destination for tourism. So whatever your skill set or employment background, there is sure to be an opportunity for you somewhere in this bustling metropolis.
CULTURE
Like most urban areas of Canada, Toronto is something of a melting pot. Roughly 50 percent of inhabitants are first generation Canadians, and about half of the population belongs to a visible minority, meaning they have a darker skin tone or other characteristic that makes them easily recognizable as not of French-English-European descent. On one hand, this level of diversity makes it much easier for foreigners to fit in without feeling too much like outsiders. In fact, Canadians as a whole are very open and tolerant towards foreigners and minorities. Although we can't say that racism is non-existent in the country.
And on the other hand, the tremendous mix of ethnicities also makes for a very interesting and stimulating social landscape. The variety of ethnic restaurants, for example, is astonishing. Chinatown is one of the largest in North America, teeming with shopping and dining establishments. And if you enjoy museums or festivals, you'll never get bored in Toronto. The options for entertainment are almost endless.
EDUCATION
If you plan to study in Canada, Toronto has some of the best post-secondary institutions in the country. The University of Toronto is the country's largest university, but there are dozens of other smaller schools. Whether you'd like to study art, music, engineering, or religion, the options are available. Older students looking to acquire new job schools or to continue their eduction will also find a wealth of possibilities. If you have children, they too will have plenty of opportunities to receive a high quality education, in a either a public or private school.
INFRASTRUCTURE
Like most of Canada, Toronto has its historic neighbourhoods and monuments, but for the most part the city is very modern and clean. Public transportation is available and reliable, and the city is well connected to the rest of Canada by road and rail. Hospitals are abundant and quality healthcare is readily accessible.
COST OF LIVING
With so many things to make Toronto such a desirable city, the one drawback here might be the housing market and the high cost of living. In recent years, home prices and monthly rents have skyrocketed, making it increasingly difficult for young people and families to live close to the city center. You can expect to pay well over a million for a home in central Toronto. For many, the best option has been to seek housing in the suburbs, further and further from downtown. This means longer commutes to the city, but people are also finding more and more opportunities for housing and work in cities like Hamilton, on the outskirts of the GTA.
Benefits of moving to Montreal
If you're looking for a taste of old Europe in North America, then you'll want to consider moving to Montreal. The largest city in French-speaking Canada, Montreal retains not only the language of the old world, but also a great deal of the architecture and the way of life. For obvious reasons, this is the first choice among immigrants relocating from France.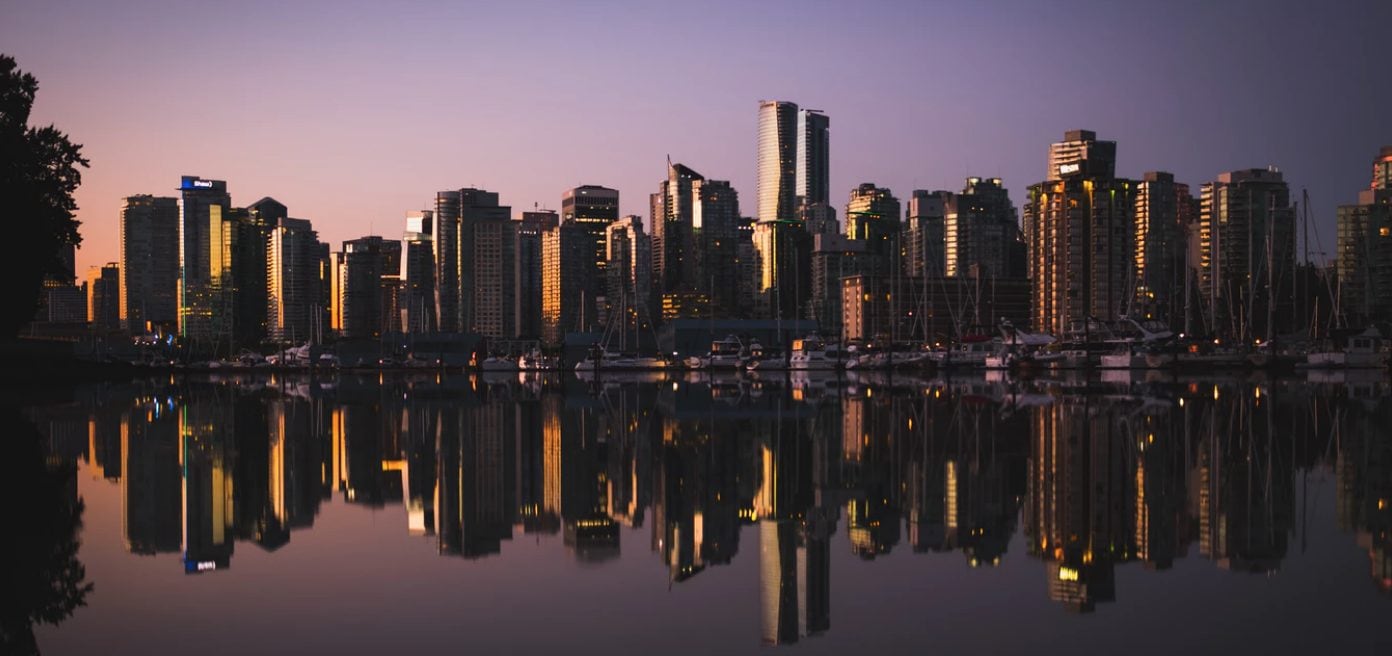 ECONOMY
A greater metropolitan population of four million inhabitants makes Montreal the second largest city in Canada. With that comes a thriving economy. In fact, the city is a focal point for a wide variety of industries, including aerospace, electronics, software and pharmaceuticals, as well as a tourism, textiles, and tobacco. Montreal also has the largest inland port in the world.
In recent years, Montreal has established itself as the North American hub for artificial intelligence research, attracting all the big names like Facebook, Google, Microsoft, DeepMind and others. If your hopes and aspirations are in the field of technology and AI, then head to Montreal where you can participate in some of the most exciting research and development happening anywhere. Canadian companies are actively recruiting skilled workers from overseas, especially those with special training and experience in software, medicine and engineering.
CULTURE
As the number one city in French Canada, Montreal has some of the most interestingly diverse culture on the continent. Like most major cities in Canada, Montreal has a flourishing population of immigrants from around the world. Combine that with the city's French roots and origins, and you get a cosmopolitan composition like no other. Although French is the official language in the province of Quebec, Montreal is a actually a very bilingual city. Wherever you go, you can feel yourself teetering between North American and European culture.
Montreal is famous for its festivals, especially the jazz fest that takes place every summer. Other festivals in Montreal pay tribute to stand-up comedy, international films, and much more. And for sports enthusiasts, you have the Grand Prix of Formula One racing, as well as baseball and of course hockey. Montreal is also home to one of the world's best known traveling circus troupes, Cirque du Soleil.
EDUCATION
Like most things, the educational system works a bit differently in the province of Quebec. Most notably, French is the official language of instruction. If you have children and prefer to have them educated in English, you will probably have to opt for a private school. But ultimately, most students receive a bilingual education, even if the emphasis leans more towards the French.
Montreal is home to a number of very reputable universities and post-secondary schools. In fact, Montreal has the highest concentration of post-secondary students of all major cities in North America (4.38 students per hundred residents). McGill offers instruction primarily in English and is widely considered the best university in the country. Montreal has several other universities and degree-granting institutions, and a dozen CEGEPs. A CEGEP is something like a junior college, offering two-year programs to bridge the gap between high school and university, as well as technical programs for continuing students seeking new job skills.
INFRASTRUCTURE
Montreal's position around an island at the confluence of two rivers (the Ottawa and the Saint Lawrence) contributes to some pretty serious traffic problems. The Saint Lawrence is particularly wide with few bridges to get across. However, rush hour traffic is nothing unusual in a major North American city. Montreal also has an award-winning system of public transit, with a network of buses, subways and commuter trains servicing the metropolitan area.
COST OF LIVING
In contrast to neighboring Toronto, the cost of living in Montreal is significantly lower. Even as property values have risen in recent years, the price of a house in Montreal is about half that of a house in Toronto. There are two or three factors to explain this difference. Firstly, Toronto is a much larger city and acts as something like the economic engine for the whole country. This makes it a more desirable and therefore more expensive location. Then there's the weather. Further north up the St. Lawrence River, and closer to the mountains, Montreal experiences some far more severe winters: colder, darker and wetter. Toronto isn't exactly San Diego, but it's definitely a step above Montreal in terms of climate comfort. Finally, if you don't speak French, your opportunities will be limited in Montreal.
Benefits of moving to Vancouver
Canada's next largest city, with a metropolitan population of 2.5 million and only about 600,000 in the city proper, Vancouver has its own distinctively west coast appeal. Most of its inhabitants live on the densely populated peninsula, surrounded by rivers, mountains and the Pacific Ocean. Vancouver's stunning geography and relatively mild climate make it one of the most livable cities in the world, as well as one of the most expensive. 
ECONOMY
Vancouver's unique position on the west coast makes it Canada's gateway to the Pacific Rim, with a port unlike any other in the country, in terms of international commerce. But today, the city's major industries are entertainment, technology and tourism. Major tech firms like Nokia, Intel, Microsoft, Amazon and others all have a strong presence in Vancouver. It's also home to a number of smaller start-ups. Recent immigration policies have made it easier than ever for Canadian firms to attract skilled workers from outside the country, and that's especially good news for potential immigrants with experience in medicine and engineering.
Foreign investment, mainly from the US and Asia, has also been driving the local economy and the local real estate market upward. This hasn't always worked out well for the locals who face an ever growing affordability crisis, but it has been good news for investors and construction companies. Many wealthy Canadians and foreigners are eager to own property and second homes in the Vancouver area.
CULTURE
A steady influx of immigrants gives Vancouver a rich diversity, similar to other Canadian cities. About half the city's residents belong to a visible minority group, and among them a little more than half are Chinese. The Asian influence is strong in Vancouver, and Chinatown is the largest in Canada. But Chinatown is only one of dozens of ethnic neighbourhoods that form a patchwork around the city.
Whether you're looking for something Greek, Cambodian, or LGBT-friendly, you can be sure there's a part of town for it. But that doesn't mean the city is segregated. Canadians are generally very open and welcoming to foreigners and minority groups, but in Vancouver they also do a good job of preserving and showcasing their ethnic heritage.
Besides the preponderance of authentic ethnic cuisine, you can also experience Vancouver's copious diversity through its museums and festivals. The city hosts a wide variety of festivals devoted to music and film. So many films have been set and produced in Vancouver that it's sometimes referred to as the Hollywood of the north.
EDUCATION
The University of British Columbia is one of five public universities in Vancouver, and is generally recognized as one of the finest institutions of higher learning in the world. The Greater Vancouver Area is also home to a multitude of post-secondary schools, both public and private, offering training and degrees in all manner of subjects.
If you're looking for a school for your children, you'll have a tremendous variety of options. Vancouver's public school system has an excellent reputation. Among the private schools you'll find numerous alternatives for French immersion, Mandarin bilingual, Montessori style, special needs, and more.
GEOGRAPHY
Even at the center of any major Canadian city, you never feel yourself too far from the great outdoors. But in no other city is that sensation as powerful as it is in Vancouver. To the west you have the vast expanse of the Pacific Ocean, with ample opportunities for swimming, sailing and whale watching. More impressive perhaps are the North Shore Mountains. City planners laid out the city skyscrapers so that even from the downtown core, you always have a view of the majestic mountains to the north. And on a clear day, snow-capped Mount Baker in Washington is visible to the south.
Unique to North America, Vancouver is the only major city on the continent without a freeway running through its downtown. This adds to the illusion that you're not really in a big city. Furthermore, the 1001 sprawling acres of Stanley Park — in addition to a host of smaller green spaces — ensure that you're never too far from a leisurely walk in the woods.
Perhaps the greatest benefit of Vancouver's setting on the Pacific Ocean is the climate. The weather patterns of the west coast shelter Vancouverites from both the savage days of winter and the oppressive humidity of summer.
COST OF LIVING
With so many desirable features, it should come as no surprise that living in Vancouver comes with a high price tag. Most real estate and affordability indices rank Vancouver as the second most expensive city in the world, after Hong Kong. But as in most metropolitan areas, the further you move away from the city center, the more affordable the housing. So if you don't need to be downtown on a regular basis, or if you prefer living away from the crowds, you can still find some reasonable deals in the outskirts.
Benefits of moving to Calgary
While famous for its rodeos and stampedes, Calgary is quickly becoming one of the most popular destinations for Canadian newcomers. With a population of about 1.3 million, you can find all the services of a big city without the headaches and impossibly high prices of a roaring metropolis. In 2018, The Economist magazine named Calgary the fourth most livable city in the world.
ECONOMY
Oil and energy may be what keep the wheels of industry spinning in the province of Alberta, but the city of Calgary enjoys a surprisingly diversified economy. A hub for aerospace, technology and financial services, Calgary also has strong retail and tourism sectors. Economic growth in Alberta has far outpaced the national average in recent years, demonstrating the fastest growth of any province. As a result, Calgary residents have seen unemployment going down while personal and family incomes have been on the rise. Jobs are plentiful here, especially in science and technology, health care services, and construction.
Downtown Calgary is somewhat famous for its skyline of high-rise skyscrapers. The modestly-sized city has the second highest concentration of corporate headquarters in the country and 14 office towers of 150 m (490 ft) or more. This presence of corporations has contributed to the average family income in Calgary exceeding $100,000 a year.
You can expect to pay more for a home in Calgary than you would in Montreal, but still nowhere near the real estate prices in Toronto or Vancouver. $500,000 will still get you a pretty nice house in Calgary. But high-rise condos near the city center have become an increasingly popular and affordable option for many residents.
CULTURE
As of the 2016 census, Calgary had a visible minority population (non-white and non-aboriginal) of about 36 percent. That's significantly lower than other major cities in Canada where minorities make up about half the population, but their numbers in Calgary are growing. As in the rest of the country, the great selection of restaurants reflects this rich ethnic diversity. Not necessarily what you would expect from a city of cowboys.
Despite having nicknames like Cowtown and Stampede City, Calgary has a surprisingly modern and prosperous feel. True, the Calgary Stampede is still the city's largest annual festival, but Calgary is actually becoming something of a hotbed for the arts, music, theater and culture. The city hosts an enormous number of annual festivals celebrating everything from film and animation to Greeks, flowers and LGBT pride. A variety of local museums commemorate First Nations people, Chinese culture, natural history, sports, music and technology.
EDUCATION
Hundreds of schools serve the educational needs of children in Calgary. The vast majority of these schools are English speaking, but a handful of francophone schools also exist. The city has a number of more specialized high schools as well, including one designed specifically for the training of Olympic athletes
About 28,000 students attend the University of Calgary, the city's largest degree-granting institution. Calgary also has a variety of smaller colleges and universities offering degrees, certificates and instruction in liberal arts, art and design, religious training, technical training, trade skills and much more.
GEOGRAPHY
Surrounding the cluster of high-rises in Calgary's downtown, you'll find of wealth of parks and green spaces. The city has about 20,000 acres of parkland, including Nose Hill Park with 11 sq km of forest, grassland and wildlife. Calgary's proximity to the Rocky Mountains front range also provides excellent access to winter sporting activities.
CLIMATE
As with so many parts of Canada, there's hardly anything to complain about it Calgary. A small city with a robust economy and an abundance of culture and diversity, it's no wonder Calgary is consistently ranked one of the most livable cities in the world. But brace yourself for the weather, and expect many months of cold and snow. Learn to ski, snowshoe and snowboard, however, and you might just find yourself looking forward to the winter. Otherwise, you might want to schedule some vacation time in February or March, and head south.
Smaller Cities of Canada
Although the great majority of Canadian immigrants will choose to settle in one of the four major cities described above, there are a number of other options. With its booming energy industry and vigorous economy, the Alberta city of Edmonton is attracting more newcomers than ever before. Canada's capital city may be small, but if you're looking for culture and education without the big city congestion, Ottawa might be your best choice. Elsewhere, Winnipeg, Quebec and the Maritime provinces also have their own special charms.
EDMONTON
There's no denying that oil and petrochemicals drive the engine of Edmonton's zooming economy, but Edmonton is far more than just a field of mines and refineries. True, Alberta may have the second largest oil and natural gas reserves in the world, after Saudi Arabia, but today Edmonton has become one of Canada's premier research and education centers for technology and nano-science in particular.
With close to a million people, and 1.3 million in the greater metro area, Edmonton has all the services of a major city, and no shortage of jobs either. Median household income is just over $100,000 a year, and the average single family home is selling for about $360,000 as of January 2019. The real estate market has slowed considerably since 2016-17, and condo prices have been hit the hardest.
In addition to being called the Oil Capital of Canada, Edmonton has also earned the title of "Canada's Festival City". Throughout the summer, the city puts on a spectacular display of creativity and imagination, with festivals to celebrate folk music, street performance, Shakespeare, Chinese Dragon Boats, and more. And in the winter they host numerous festivals to glorify the ice and snow. If it's access to nature you're looking for, Edmonton's river valley, with over 20 major parks and attractions, forms the largest expanse of urban parkland in the country.
OTTAWA
Situated on the southern bank of the Ottawa River in eastern Ontario, Canada's capital city stands at the border between Quebec and English-speaking Canada and is officially bilingual. Linked to Gatineau across the river, the two cities form the Ottawa-Gatineau metro area, with a population of roughly 1.3 million. With a far lower rate of immigration than other Canadian cities, visible minorities make up only about 23 percent of Ottawa's population.
The bulk of Ottawa's economy revolves around government and public service jobs, but the city also has a growing high tech industry. Home to about 1,800 tech firms, the city is sometimes referred to as the Silicon Valley of the North. Unemployment in Ottawa is lower than the national average, and economic growth is slightly higher. As of January 2019, the average home costs around $390,000.
Ottawa has a very well educated population and the highest concentration of engineers, scientists and PhDs in the country. The city has two universities and two main colleges. Most schools provide children with a bilingual education, but emphasizing either French or English, and there's a wide variety of public and religious schools throughout the city.
WINNIPEG
The capital of Manitoba has a population of about 700,000. Unlike other major Canadian cities with higher immigration rates, visible minorities comprise only about 23 percent of Winnipeg. The city's Aboriginal population is actually growing more quickly, and is now up to about 12.5 percent. For a small city, Winnipeg hosts a tremendous variety of festivals, mostly in the summer.
Winnipeg has one of the most diversified economies in the country. Most employment comes from trade, manufacturing, education and healthcare. Many companies choose Winnipeg because it is one of the least expensive western Canadian cities in which to conduct business. The cost of living and housing are notably lower in prairie cities like Winnipeg. On the downside, the city's inland location makes its climate particularly undesirable, even by Canadian standards, earning it the nickname "Winter-Peg".
QUEBEC CITY
The capital of French Canada, with a population of just 500,000, most employment in Quebec city is provided by the provincial government. The vast majority of residents are French speaking, and only 3 percent of the population are visible minorities, the smallest proportion of any major Canadian city. Quebec City residents enjoy a very low cost of living and housing.
MARITIME PROVINCES
Canada's rugged east coast may be a thing of beauty for tourists and fisherman, but it's hardly a magnet for Canadian immigrants. New Brunswick, Nova Scotia and Prince Edward Island make up the Maritime provinces, a sparsely populated area with little industry besides fishing, logging and tourism. Halifax, Nova Scotia, is by far the region's biggest city, with a population of around 400,000.
If you're planning a move to Canada and need to know more, ARIANNE Relocation has been helping families and professionals get settled in the country for more than 20 years. Check out our comprehensive and easy-to-use Online Relocation Guides, and let us help you make your move to Canada as smooth and successful as possible.