Here at ARIANNE, our passion is totally focused on helping others move to Canada. For those seeking information, there are countless resources to consider, each containing some perks and drawbacks. To make your search for quality information even easier, we've compiled a list of 10 awesome resources to use when thinking about a move to Canada—some free, some expensive, and some that fit right in the sweet spot between the two, bringing you comprehensive guides for a small fee.
To learn, please check out our popular article on Canadian Relocation Services.
BEST PAID GUIDES ON MOVING TO CANADA
Free information is available everywhere on the Internet. But there's only one issue: when it's free, it's usually lacking in quality. That's where paid guides come in: they offer a higher standard of information to ensure that your move to Canada doesn't miss a single detail.
Sunset Travellers, founded in 2013, is a travel site dedicated to useful and interesting travel tips and guides for those eager to explore the world. Originally from Ireland, the two adventurers have explored far stretches of the world, including Indonesia, Philippines, Australia and Europe. Now, the founders have just finished a two-year stint in Vancouver, Canada, where they dedicated their energy to helping others follow their path in the move to the land of beavers and maple syrup.
While they're written several blogs about Canada and the things to see and explore in Canada, their eBook, "Moving To Canada" compiles all those articles into one central hub.
Fairly Comprehensive: includes lesser-known details about doing taxes and setting up a SIN

Extras: the guide includes trip itineraries, like a 21-day road trip across the British Columbia Rockies
Difficult to Navigate: Their list format and layout without helpful links is difficult to navigate when you need information on the go.

Little Cultural Advice: While the eBook covers the moving process well, it doesn't offer much in the way of dealing with Canadian cultural hurdles that might arise.
Information Coverage –
65
ARIANNE has been one of Canada's most trusted relocation services for over 20 years. The Canadian-born founders have helped hundreds of organizations and thousands of individuals orchestrate the complicated move to Canada with precision and ease. After offering one-on-one consultancies for over two decades, ARIANNE has compiled all their knowledge and experience into the most comprehensive relocation guide on the web.
With over 150 pages of exceptional and detailed content, each city's relocation guide provides impeccable advice on what to expect during your move and how to overcome every administrative and cultural hurdle that comes your way. Since the guides are housed online, they're brimming with direct links to the most important websites and government forms. So you can rest easy knowing that you won't miss a thing.
Remarkably Detailed: Not a single detail is missed in these guides. Starting from pre-trip planning and flowing easily through insurance, residency, health care and more, these guides let you relax knowing you haven't missed a thing.

Hyper Local: Unlike other relocation guides, there's a specific guide for each major Canadian city. So you can focus your research where it counts, knowing you won't miss a beat.
Online Only: Since these guides are housed online, you'll require an internet connection to access them (as well as the useful links embedded inside).
Information Coverage –
100
Expat Info Desk is a collection of relocation guides written by expats, for expats. Each relocation guide is replete with honest facts and subjective advice about learnings from various individuals' moves to the Great White North. They don't try to sell you on a location—they just tell you how it is.
While other relocation companies have focused on Canada as a whole, Expat Info Desk has tailored their attention towards Toronto and Vancouver specifically. That's because their business model revolves around relocation to major cities across the world, not just Canada. So while you might question how authentically Canadian the guides are, you can find some peace and calm knowing these relocation guides have helped others move to some of the toughest cities in the world, like Beijing and New York City.
Written From Experience: Each relocation guide is written by someone who has undergone the process. This gives readers opportunities to learn from others mistakes and successes.
Not Canada Focused: Without a singular focus on Canada, readers might question their guides authenticity and effectiveness.
Information Coverage –
60
BEST FREE GUIDES ON MOVING TO CANADA
Free guides are an excellent jumping off point if you're looking for basic information on emigrating to Canada. Use them well, but use with caution: a lot of these guides are riddled with ulterior motives, like getting revenue from ads or upselling you on using their paid services.

If you couldn't tell by the site name alone, Moving2Canada.com lives and breathes all things related to moving to Canada. The website covers the vast sea of information regarding immigration to the Great White North, even addressing highly specific situations that might arise in your application. Although it is quite comprehensive, the site is cluttered with blocks of information (and ads) that can make it a bit difficult to navigate.
Comprehensive & Detailed: If you have a question about Canadian immigration, you'll find it here. It just might take you a while to get to the right link or landing page.
Hard to Navigate: Without all their information centralized in one useful guide, the website is a bit of an eyesore to navigate through. Through hundreds of links and countless blog entries, it can be hard to figure out where to even begin.

Ads, ads, ads: There's a reason why the website is free: advertising revenue. The entire site is littered with distracting ads that can steal attention.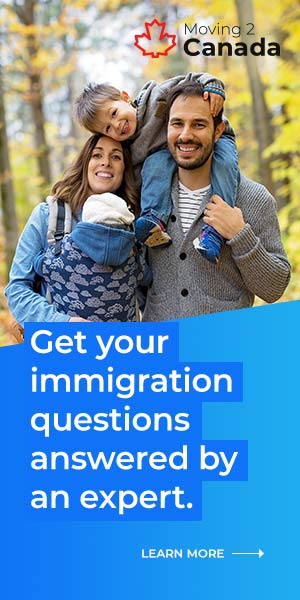 Information Coverage –
90
TransferWise is an international money transfer service situated in the UK. Since moving across the globe creates serious hurdles with your personal finances, TransferWise has established a unique niche in helping individuals switch countries through the lens of money. However, upon further review, their guides are actually much more comprehensive than that, offering a detailed step-by-step guide and noteworthy facts you should keep in mind when planning your move.
Useful Links: This guide includes several useful links for getting you started in your planning. They've done their research while covering all the basics, like legal requirements and job boards.
Missing Cultural Details: Again, since the guide does lean into the whole money-transfer business, TransferWise overlooks several nuanced details, like cultural acclimation and how to find appropriate housing / schools.

British Expat Focused: There's a slight lean to help British expats, including those from former British colonies like Australia.
Information Coverage –
60
We know, we know. This free guide is meant specifically for citizens of Ireland. Fortunately, a ton of the information is applicable across all nationalities, and the links are extremely helpful in pointing you in the right direction. If you lose the "Irish" lens, you'll see detailed primers on Canada's best cities, the housing market, health and education and so much more. They've also done a top-up job at covering the different kinds of entry visas, ranging from the IEC working holiday visa to permanent residency through the Express Entry System.
Comprehensive Enough: This guide really does cover *almost* everything. It includes info about visas, cost of living, education, health, finding housing, and even lifestyle / climate information. Detailed!
Little Assistance: While the article points you in the right direction to fill out forms and handle other administrative tasks, they don't offer actual pointers and tips for tackling the process efficiently and effectively.
Information Coverage –
70
Reddit has won over the heart of the Internet over the last few years, serving as the last reliable filter to useful Internet content. With user generated posts, and a user upvoting system, only the best quality content sees the light of day. And that includes this soon-to-be Canadian's guide for making the leap across the Atlantic.
The guide is super authentic, written by a legal assistant for an immigration lawyer. It's also self-proclaimed to be like Wikipedia, useful for a jumping off point but no more. And frankly, we agree. The guide contains useful content about what to expect in a move to Canada and why you should consider the move in the first place. It then directs you to several useful links like Government Canada's "Immigrate through Express Entry" forms. It also has commentary on each of those forms, with particulars to look out for.
Super Authentic: Written by an American who is deeply passionate about becoming Canadian, the guide really does bleed Red and White (Canada's flag colours). It doesn't try to be something it's not, and includes countless useful links that are not to be missed.
Subjective: At the end of the day, this entire guide is subjective in nature, based off one person's experience in his move to Canada. The Canadian pride is clear, but a more objective source should be consulted if you're taking your move seriously.
Information Coverage –
60
This free guide is mainly designed for British Expats (as the title suggests), but still provides a useful overview of the visa process and more nuanced details that be consulted by anyone. While they don't cover the cultural element of Canada very well, their wide-ranging approach to the details of the immigration process is something to be admired.
Logistics Covered: This free guide does an exceptional job at covering the logistics of moving to Canada. With information on getting a social insurance number to opening a bank account, it can help alleviate a lot of headaches with useful tips.
No Cultural Information: Moving to a new country requires a great deal of preparation. And that includes learning about the city and cultural you'll soon inhabit. This guide thrives off logistics, but really lacks with a rundown on Canadian lifestyles.
Information Coverage –
70
BEST IMMIGRATION CONSULTANTS FOR MOVING TO CANADA
In the guides above, you'll be equipped with all the information you need to tackle your immigration on your own. However, some people find it stressful to handle such an overwhelming process without assistance. That's where Regulated Canadian Immigration Consultants come in. For an hourly fee, they'll help you with all the details, ensuring nothing is missed, and everything done effectively.

Located in Vancouver, British Columbia, CICS offers the service of trusted professionals that are all registered with the ICCRC (the Immigration Consultants of Canada Regulatory Council). The team at CICS gives you an overview of the process, then gives you the option to have them handle all the details of the application for you.
Complete: Immigration Consultants are beneficial in that they handle every last detail of the application for you. With your hands out of the pot, you can relax knowing everything is taken care with utmost precision.
No Self Learning: Those moving to Canada may like to get a better handle on their move by learning about the country itself. Since CICS will handle everything for you, you'll miss the opportunity to truly get to know your new country inside and out.
Information Coverage –
70
ICC Canada Immigration Solutions covers the vast range of immigration services, both inside and outside of Canada. Located in Mississauga, Ontario, the business is a hop and a skip from Canada's main city, Toronto. Each year, they accept 10,000 intake clients who are hoping to come to Canada.
Everything in One: Whether you're a student, a skilled worker or even a family, this team has experience with everything. So you'll have complete confidence knowing that your application will be handled with great attention.
Lack of Control: The one downside to using a consultant is the fact that you are truly hands off from your application. This can be a bit unnerving for those who like to double check the applications to ensure nothing is awry.

No Upfront Prices: Immigration consultants can already be quite expensive. Without upfront costs associated with your questions, it's difficult to gauge how expensive your visit will be.
Information Coverage –
80
WHICH ONE IS BEST?
Since every individual moving to Canada has different needs, it's difficult to say which one is best. Use this overview chart below to see which one fits your needs, and don't hesitate to contact us if you have any questions!
| | | |
| --- | --- | --- |
| COMPANY NAME | GUIDE TYPE | OVERALL SCORE |
| Sunset Travellers | Paid eBook | 7.1/10 |
| ARIANNE Relocation | Paid Guides | 9/10 |
| Expat Info Desk | Paid City Guides | 7/10 |
| Moving2Canada | Free Website Resource | 7.3/10 |
| TransferWise | Free Website Guide | 6.3/10 |
| Irish Times | Free Website Guide | 7.3/10 |
| Reddit Post | Free Website Guide | 5.7/10 |
| Off Track Travel | Free Website Guide | 7/10 |
| CICS Immigration Consultant | Paid Consultancy | 7/10 |
| ICC Canada Immigration Solutions | Paid Consultancy | 7.6/10 |
To learn more, check out these popular articles: