Coming from abroad, driving in Québec can be a whole experience for many reasons: weather conditions, driving rules and habits, road conditions, or even strange signs!
We can thank J.-Omer Martineau, assistant chief engineer with the ministère de la Voirie du Québec for his idea of creating illustrated signs. Indeed, in 1923, he decided to replace signs containing texts by illustrated signs using symbols as some drivers couldn't read. The symbols chosen can be (or are supposed to be) understood at a glance; in practice, some of them take a little getting used to!
Different colours are associated with signs: green means mandatory; red means prohibitory, yellow is associated with danger and orange with road works.
One important thing to know about road signs in Québec, is that the 'STOP' sign is translated into French displayed as "Arrêt" (even though "STOP" is used in France).
Many road signs in Québec are unique to the province, and there are lots relating to specific wildlife or nature. You can see some indicating the possibility of coming across loaded trucks; or some indicating "anti-cervidae webbed crossing", or, the famous road sign, symbolic of the province of Québec: a road sign indicating the presence of caribous or moose.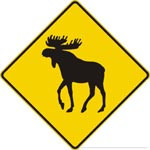 Other interesting road signs announce places of interest such as "route des baleines" (whales' road); "circuit du paysan" or "route du fjord"; all unique and very typically from Québec!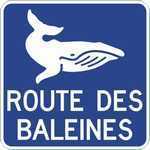 It is also a way of discovering the province, as road signs are all very special and representative of what Québec can offer culturally. You can also find signs for self-picking fruit farms; or others for paintball ranges (or just about anything you can think of!)
You will, of course see other signs related to snow, ice and winter, including specialised signs for 'skidoos' or snowmobiles, or even snowshoes…
It is not uncommon to find some incomprehensible sign arrangements in Québec; the way the are set and the place they are can sometimes make it harder to find one's way than it would have been with no sign…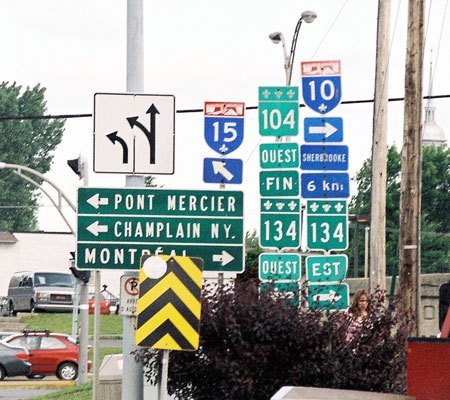 Photo credits: Transport Quebec; Marc Serre.