Western Canada, one of the last frontiers of our planet. Until just a hundred years ago, it was still little more than a smattering of fur traders, cowboys and a great variety of First Nations peoples. Beyond the Great Lakes of Ontario and Quebec, and the open prairies of Manitoba and Saskatchewan, the country takes on a real different character. And yet the differences between Vancouver and Calgary are enormous, especially when look at the cost of living.
Separated by the formidable Rocky Mountains, British Columbia and Alberta remain two of Canada's most distinct provinces. Formerly the cattle herding capital of Canada, Calgary is finally outgrowing its reputation as cowboy central. And Vancouver, once a wooded paradise where a dugout canoe and a fishing pole were all you needed to make a decent living, has now become one of the costliest cities in the world.
Today, both cities remain very charming and desirable in their own ways. Calgary and Vancouver consistently top the list when international surveys measure things like livability and quality of life around the globe. But it's important to understand that the cost of living in Vancouver is about twice as high as it is in Calgary. Consider, for example, that the average home price in Calgary in mid-2019 is about $410,000, compared to just over $1 million in Vancouver.
You can always find a way to cut costs when you're in a pinch, but the undeniable fact is that living in Vancouver will cost you more. And that's especially true if you plan to live there with a family, having less flexibility and more unexpected incidental expenses. So ultimately, you'll have to decide for yourself. Does the difference in lifestyle justify the price tag of living in coastal Vancouver rather than landlocked Calgary? 
NOTE: If you're thinking of purchasing a home in Canada, we strongly recommend reading these in-depth articles on Buying a House in Canada and Where to Live When Moving to Canada.
Why is Vancouver so much more expensive than Calgary?
Canadian Climate
At the risk of oversimplification, we can explain the price disparity between these two cities with just one word: Weather. And when we say the weather, what we really mean is the winter. Anyone living in Canada knows that the winter is a force unto itself. Especially in the prairies and inland regions, the winter can be relentless. In fact, Calgary has been known to see snow in every month of the year. Granted, it hasn't snowed in July for 20 years, but even the remote possibility can be enough to make you stop and shiver.
Take a look at the climate in seaside Vancouver, and it's practically night and day. The British Columbian metropolis gets an average of about nine snowy days a year. That's just enough to provide the novelty of an occasional snowball fight, without creating seasonal highway gridlock for weeks at a time. And did we mention, there are no highways in Vancouver. That's another plus.
But it's not all doom and gloom. Despite the cold temperatures, Calgary is considered the sunniest city in the country, based on a survey of 100 Canadian cities. On average, Alberta's capital city enjoys about 332 days of sun each year. That almost makes up for the 22 days a year when the mercury falls below -20º C. The average monthly low temperature in Vancouver never even drops below freezing. So even in the depths of winter, the coastal influence manages to keep the chill off.
Geography
Apart from the higher quality of life that presumably comes with living in a more temperate climate, there's an important economic factor that comes into play: supply and demand. Or maybe it's more of a geographic factor. The city of Vancouver is situated on a peninsula, something like San Francisco, surrounded on three sides by water. While this provides a valuable element of scenic beauty, it also puts a critical restriction on urban expansion. Of course you still have inland access to the east, and there are bridges linking to more suburbs to the north and south. But you cannot overlook the economic pressures created by the geography of the city.
One more point about Vancouver's position on the West Coast is its proximity to Asia. Still thousands of miles across the Pacific, the Far East is not exactly banging on Vancouver's backdoor the way Seattle is. But wealthy Asian investors have played a critical role in driving real estate prices through the roof.
And yet Calgary is a far cry from being the armpit of North America. Although it's more than a day's drive from the beach, its location on the front range of the Rockies provides a different kind of natural beauty and access to mountain sports. Furthermore, Alberta is home to the second largest oil and gas reserves in the world, bringing vital economic stimulus and opportunity.
Cowtown's job market is so strong, in fact, that the city boasts the highest average annual household income in the country, just about $100,000. And that makes Vancouver look even less affordable by comparison. The average income in Gastown is more like $70,000. (Yes, we do like our nicknames in Canada.)
Crunching the Numbers: Cost of Living in Calgary vs. Vancouver
In general, living is—unfortunately—pretty expensive. There's rent, groceries, transportation, gym memberships, and the list goes on. Without smothering you with every possible detail, here's a very loose sketch of what your monthly expenses could like if you and your family move to one of these amazing cities. As you can see, the cost of housing is the biggest the difference.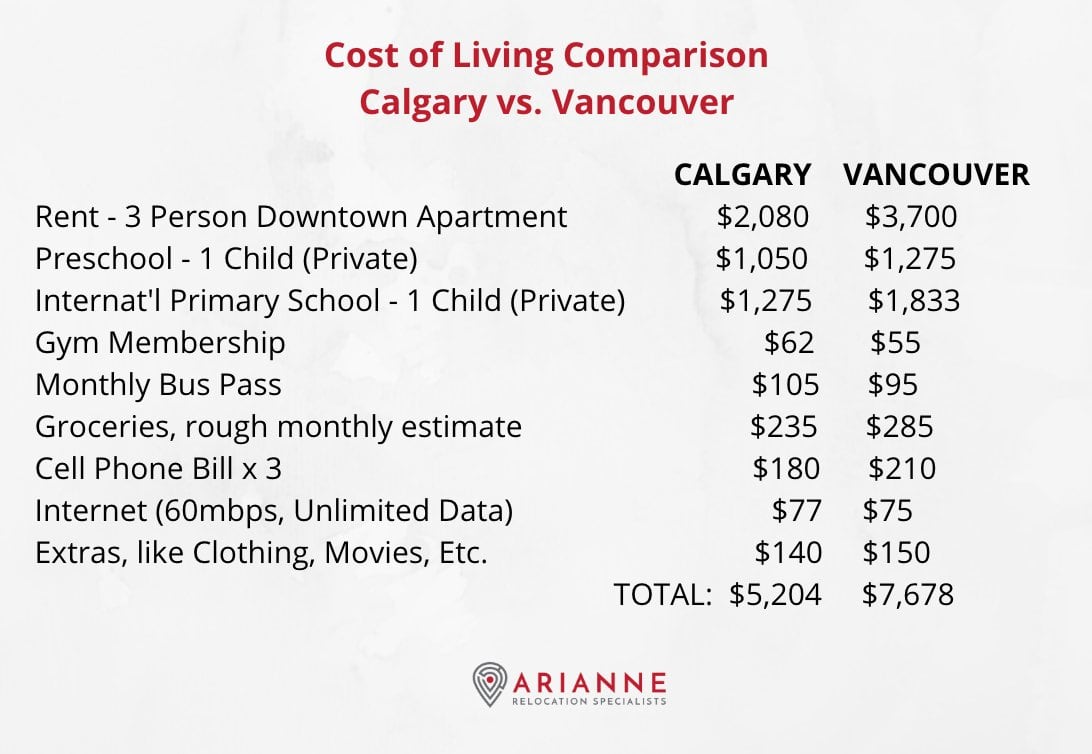 And if you're planning on purchasing a home, the difference in cost will be even greater. The average home in Vancouver is selling for more than double the cost of an average home in Calgary. But remember, averages can be misleading. Homes in the most desirable areas of downtown and West Vancouver are considerably more expensive, well up to $2 or 3 million. If you're looking to save money, your best option is generally to look for housing further outside the city centre. Of course, if you work downtown, you'll have to figure the cost of your daily commute—in time and gas—into the equation.
Conclusion
The facts are incontrovertible. While an average-priced home in Calgary is about 20% less than the national average of $494,000, the benchmark home in Greater Vancouver sells for more than twice that. And if the disparity in income could offset that difference, that could help to ease the pain. But actually, average household incomes are more than 30% higher in Calgary than in Vancouver.
But keep in mind, most of these figures are estimates, and averages are just averages. It is possible to find a less than average-priced house in Vancouver and a better than average-paying job. But it's important to be realistic about the overall financial landscape. If you hope to buy a house in the Greater Vancouver Area, you're going to need a higher than average income or a bigger than average nest egg.
Otherwise, British Columbia is an enormous province covering nearly a million sq. km. Check out the smaller cities and rural areas, and you can still find some beautiful property at a reasonable price. Or take the opportunity to live in a far more affordable city. With the money you save in Calgary, you could likely afford to buy a small cabin somewhere. Preferably some place warm, where you could spend a month or two in the winter.
Moving to Canada is more than a life-changing decision. It's a decision to embrace a safe and friendly environment, to revel in a multi-cultural melting pot, to enjoy universal healthcare and some breathtaking moments in nature. And above all, it's a choice you'll never regret, even if the temperature occasionally gives you haunting flashbacks to the middle of Russia.
At ARIANNE, we want your transition to Canada to be easy, smooth and hassle-free, regardless of how much it costs to settle in and live. That's why we've prepared our comprehensive Online Relocation Guides that will give you all the tools you need to orchestrate a flawless move to Canada.
Further reading
To learn more about housing and living Vancouver and Calgary, be sure to check out these other articles.