News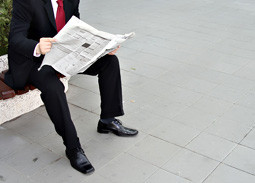 News
---
Montréal 2012 – Business leader
Greater Montréal Ranked Most Cost-Competitive in North America – KPMG Study
"Montréal is ranked in the top spot as the city with the lowest business costs in any of the 30 largest metro areas (all with populations of 2 million or more) in Canada and the United States, according to KPMG's Competitive Alternatives 2012 study released in March 2012. Among the 30 large cities surveyed in the study, Montréal ranked higher than Toronto (2nd place), Cincinnati (3rd), Vancouver (7th), Chicago (21st), Philadelphia (23rd), Boston (27th), and New York City (29th)."
---
Relocation Success Story
ARIANNE is delighted to support our former client, Julie Guyard, in the launch of her new Canadian interior design venture: design at distance. Julie is happy to offer ARIANNE readers a $30 reduction on all d@d Gift Boxes purchased before December 25th 2010. Please read Julie's success story on ARIANNE's blog or contact d@d directly at 1.514.447.0292 mentioning the word "ARIANNE".
---
Top World Cities 2010
Did you know that, according to the 2010 Global Liveability Report from The Economist Intelligence Unit, 3 Canadian cities ranked in the world's top 5 cities offering best quality of life?
Rankings
#1 Vancouver
#4 Toronto
#5 Calgary
---
New Manager – Client Services
We are very pleased to announce that Ms. Dorothée Coupat has recently joined ARIANNE's team as Manager – Client Services.
Dorothée has first hand experience in international mobility and has lived in North Africa, Asia, Europe and North America. She holds a Master Degree in International Management as well as a Bachelor's degree in International Hospitality and Tourism. Please join us in welcoming her to ARIANNE.
Dorothée can be reached at dorothee@ariannerelocation.com or + 1.514.482.2200 ext. 226
---
January 2010
ARIANNE Relocation Canada is very proud to inform you that this month's lead article in ERC'S MOBILITY Magazine, entitled "O Canada", was written by ARIANNE's Director of Business Development.
---
April 2009
Did you know that in 2009, 5 Canadian cities ranked in the world's top 30 cities offering best quality of life? Interested in knowing which ones? Click here for the answers!
---
Publication
Article published in The Gazette concerning ARIANNE Relocation Agency
"The agency also helps companies set up entire offices in Montreal, finding lawyers, accountants and tax experts and scouting out any relevant government incentives."
---
Publication
Article published in the Magazine Effectif and written by a member of ARIANNE Relocation Agency
"Certaines entreprises … ont réussi à minimiser les coûts directs et indirects liés à la logistique des mutations tout en maximisant la satisfaction de leurs employés."
---
Contact us to learn how ARIANNE Relocation's team can be of service to you and your organization.